Senior Tech
K.P. Walsh
Join Date: Jan 2008
Location: wyoming
Posts: 380
72 camaro, alternator problems. pics.......
---
I am getting this '72 sorted out.
I dont know much about it and am making it road ready.
11.5v @ idle
from alternator installed now. 1 wire. (but voltage regulator plugged in) it does'nt add up. maybe a 10si but not fully converted?
I'll post pics and lets see whats going on.
I see the external voltage regulator in place and plugged in, I currently have a replacement alternator (unknown spec) installed and a red dash lamp glowing for alternator. it has 1 wire off the post on back, red wire.
I have driven it about 45 miles last weekend but I suspect the alternator took a dump or I was running on battery the whole time.
------------------------------------------------------------------------
heres what I want to install:
10si (1973+ style alternator)
I ordered the adapter kit, CA27555 from classic ind. Has a plug that goes where the old external volt regulator was to connect the wires correctly to bypass it, and has an adapter plug to go from old harness to the new plug type of the 10SI alt.
-------------------------------------------------------------------------
so some pics attached. based on what I want to do and what I have what do I need to do so I dont fry anything ???
basically I want the internal regulated alternator on and working.
---
kevin p...................
1972.5 Camaro!
---
Last edited by Z27LS3; Jan 27th, 13 at

02:19 PM

.
Senior Tech
Al
Join Date: Nov 2002
Location: Vancouver, USA
Posts: 10,332
Re: 72 camaro, alternator problems. pics.......
---
You're probably just reading batt voltage there. That alt needs an "exciter" wire connected to the internal regulator post #1 to get the alt to start producing power and you have nothing connected. Before you give up on that alt install the conversion kit you ordered and then see what you get. If all is well your gen light should come on when you turn the key to "run" (light check) and go out once the engine is running. At idle you should get ~14 volts off of the big red on the back of the alt. If you still get the low voltage reading then the alt is suspect - most parts houses will test for free if you hand carry the alt to them.
If you want to do a simple test before your kit arrives, first check the white wire where the plug was cut off with a test light. It should be hot with the key off. If so, connect the alt like this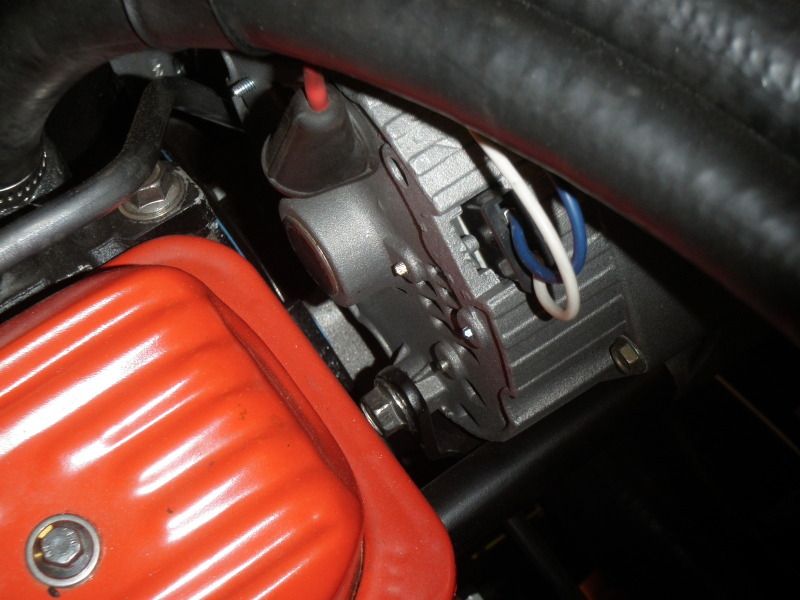 and the plug that goes into your external regulator like this
(photo credit: TC member GregO)
---
Last edited by BPOS; Jan 27th, 13 at

04:16 PM

.
Senior Tech
K.P. Walsh
Join Date: Jan 2008
Location: wyoming
Posts: 380
Re: 72 camaro, alternator problems. pics.......
---
ok, I'll definitely try to use the alternator already installed to see what happens. I should have the blue and white wire spliced in this week when I get parts.
---
kevin p...................
1972.5 Camaro!