Senior Tech
Brian
Join Date: Dec 2006
Location: New York
Posts: 833
Pour concrete into existing pole barn
---
Hey Guys,

I am in the process of prepping a 24'X24' pole barn for a concrete floor. I am currently digging out 8" of bank run, not exactly an easy task with wheel barrow and shovel! I will then put down a moisture barrier and crushed stone and then form it up. Anyone ever pour concrete into an existing structure? Any advice would be appreciated. I am kind of wondering how I am going to go about screeding it off.
Senior Tech
Brian
Join Date: May 2005
Location: Laurel, In
Posts: 4,343
Re: Pour concrete into existing pole barn
---
Only advice I've got is to make sure and stake the existing lumber that will be used for the form boards from the outside to make sure they don't bow out when you start pouring. You might also consider foam insulation under the concrete incase there is any chance you might finish it out sometime and want to heat it.
---
Experience...... It's what you get when you didn't get what you wanted.
Gold Lifetime Member
Matt
Join Date: Jul 2009
Location: Lauderhill, Florida
Posts: 819
Re: Pour concrete into existing pole barn
---
Make sure you put expansion material around any supports that will be protruding from your newly poured concrete ,it will limit cracking after you pour.Make sure you cut control joints in the slab after you pour it.They only need to be about a 1/4'' deep.If your slab is 24'x24',you should be fine with two cuts;one from east to west,and one from north to south effectively giving you four 12'x12' squares on the slab.When the concrete cures this will give it a controlled location to crack.If the ground under your pole barn has never been disturbed and is reasonably sound you should be O.K.If not, it wouldn't be a bad idea to run a compactor over the sub grade before you pour.Make sure you don't bury any organic matter under the slab area(sticks,logs,grass,leaves,etc.)because it will decompose over time and give you settlement issue's.As far as screeding,form the slab into more managable sections.After you have your 24'x24' box,sub-divide it into smaller sections such as 4 12'x12' boxes within the main form layout.After you are all formed up,run stringlines from form to form and give your self some grade stakes throughout the slab.Simply put a nail in the side of the stake where the stringline contacts it and that is where your top of slab will be.As you work the concrete through the area's and you are satisfied with the level,simply pull out the grade stakes.Make sure you put some sort of reinforcing in the slab before you pour.6''x6'' welded wire mesh is ideal and can be purchased at Home Depot.IF not check with your concrete supplier of choice and see if they offer fibermesh.This is simply concrete with fiberglass strands mixed into the mix that acts as the reinforcing.After you pour the concrete and it starts to cure(harden),set up a garden sprinkler on it and wet it down over night.This will help it cure and lessen the chances of cracking.Give the concrete about 2-3 days before you put anything heavy on it.You should be able to walk on it in a few hours after you pour.If this all sounds like alot of work,it is.It might not be a bad idea to get some quotes from a finishing company to place and finish the concrete for you.Remember,once it's dry,it's yours.I would recommend a mix design of at least 2500psi or greater.A broom finish would be the best finish for a high traffic area,and it will not be slippery when wet.Good luck and have fun.
---
1969 SS Garnet Red X55 350 Factory 4 speed
12 Bolt 3.55 Posi
461 BBC TKO600
Re: Pour concrete into existing pole barn
---
If building codes allow it, consider burying an empty plastic 55 gallon drum with holes drilled all over it and fill it with 3/4 gravel stone then create a slope in the pole barn toward that barrell drain area. You can wash cars or allow rain or snow to melt off and it will go down the drain, much the same as if you were outside washing your car on the lawn. Some codes allow it, some dont.
When we built our attached garage last summer, I used the 4" flex draintile pipe with a sock on it, buried along the inside perimeter of our foundation block and brought up to the garage floor level, where we sloped it all toward that drain, works great
---
Click..is Jim..former owner of a 69RS-LM1 350/255 - 700r
"There will come a time when you believe everything is finished,
That will be the beginning." Louis L'Amour


To view links or images in signatures your post count must be 10 or greater. You currently have 0 posts.

Senior Tech
Mike
Join Date: Feb 2012
Location: Monroe, MI
Posts: 414
Re: Pour concrete into existing pole barn
---
It common practice to do that for basements, that's how ours was done. The entire house structure was framed in and the basement wasn't poured until the house was ready to be sealed in. I'm sure if you seach the net you'll find how it's done. Good luck.
---
Mike

An honest man's pillow is his peace of mind. JCM
Senior Tech
Al
Join Date: Jun 2007
Location: Iowa
Posts: 1,786
Re: Pour concrete into existing pole barn
---
Brian, Rent a cement buggy and a power screed. I will never pull cement by
hand again. For a large area as you are doing, I use 3/4" wood stakes with 1"
or larger (straight) conduit sitting on top of them to establish height. Angle a
couple of nails in the stakes to keep the conduit in place. The screed then
rides on top of the conduit. After screeding, pull the conduit out and fill in the
void with concrete and hand trowel. Then move the condiut to the next
section. Leave the stakes in place.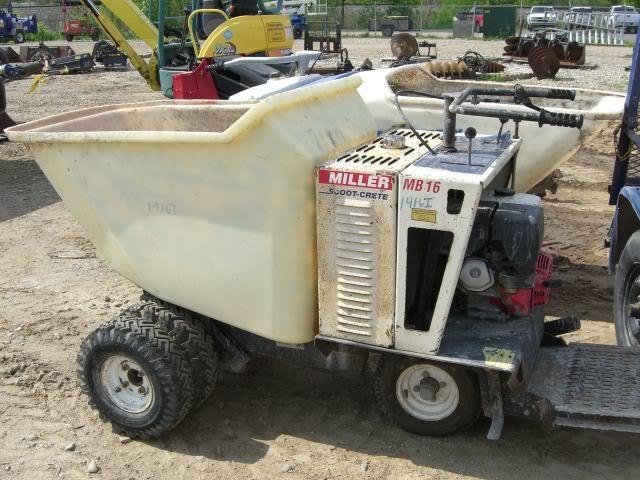 ---
Al

my 67' build thread:
To view links or images in signatures your post count must be 10 or greater. You currently have 0 posts.

Senior Tech
Brian
Join Date: Dec 2006
Location: New York
Posts: 833
Re: Pour concrete into existing pole barn
---
Guys, thanks for the time and ideas! Greatly appreciated. Hoping to be ready to pour mid April. The words of wisdom with give me some things to consider here going forward.