Team Member
Ray
Join Date: Mar 2012
Location: North Jersey
Posts: 1,048
Pilot bearing removal
---
If you go to replace your clutch and want to replace the bronze solid pilot bearing here is a tip. Provided you don't have a pilot bearing puller.

I know, I know, I saw all those tricks on youtube, too, but I can guarantee this one works because I did it!

Get only a few sheets of toilet paper and drop them in a small bowl of water. Find a round punch about 5/8" or less. You can wrap duct tape around it to make a tight semi waterproof seal. I then sprayed a fast shot of liquid wrench on the bearing. I began to then stuff, at first, a small wad of wet paper into the center hole of the bearing. Keep repeating this until you have the center hole more than filled. I used a small ball peen hammer to start jamming the wet paper into and around the back of the bearing. It may take a few tries to totally fill the void behind the bearing. Within five minutes or so, the bearing started to move out! I stuffed more paper in the hole and then used a bigger ballpeen to completely walk out the bearing. Amazing!

I didn't think it was going to work, but it did. The bearing came out with all the paper stuck to the back of it. Hydraulic pressure pushed it out.

Good luck, no scam here, it worked for me!
---
'68 rs/SS 350 M-21 posi
numbers matching
Senior Tech
Mike
Join Date: Nov 2005
Location: Bluegrass State
Posts: 228
Re: Pilot bearing removal
---
That sounds like a trick a mechanic of 30+ years at a Chevrolet dealer told me about. Instead of toilet paper he used a slice or two of bread. I tried it and used a chipped forth gear as the driving tool. It came right out.

Mike
Senior Tech
Mike
Join Date: Nov 2007
Location: Inverness, IL
Posts: 142
Re: Pilot bearing removal
---
You can also pack it with grease. Works the same as the toilet paper and bread.

Mike
Gold Lifetime Member
Greg
Join Date: Jul 2015
Location: New Jersey
Posts: 1,817
Re: Pilot bearing removal
---
I personally have used the grease option in the past more than once and it works like a charm. I used my clutch centering tool to pack the grease as it fits perfectly into the pilot bearing
Team Member
Ray
Join Date: Mar 2012
Location: North Jersey
Posts: 1,048
Re: Pilot bearing removal
---
I did try using wheel bearing grease. Nothing happened, I think because I was also using the plastic centering tool and was afraid breaking it since I would need it later for the clutch.
I think the trick is to get a GOOD SEAL with whatever you use as the driving tool or whatever filler you use. Also a heavy hammer and a hardy whack will compress and force the filler into all the voids.
---
'68 rs/SS 350 M-21 posi
numbers matching
Senior Tech
Mark
Join Date: Sep 1998
Location: Ontario, Canada
Posts: 2,009
Re: Pilot bearing removal
---
I used grease and my old input shaft as my tool and a piece of 1/4" steel. I used my input shaft to install the new bush too.
I'm sure if you went to your local tranny shop they'd have some junk input shafts you could get off them.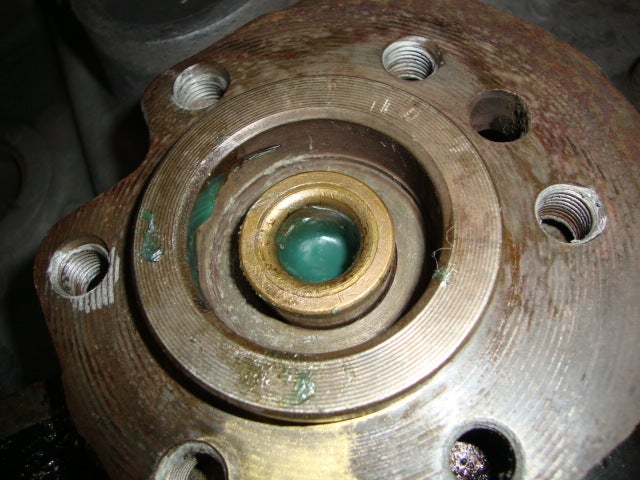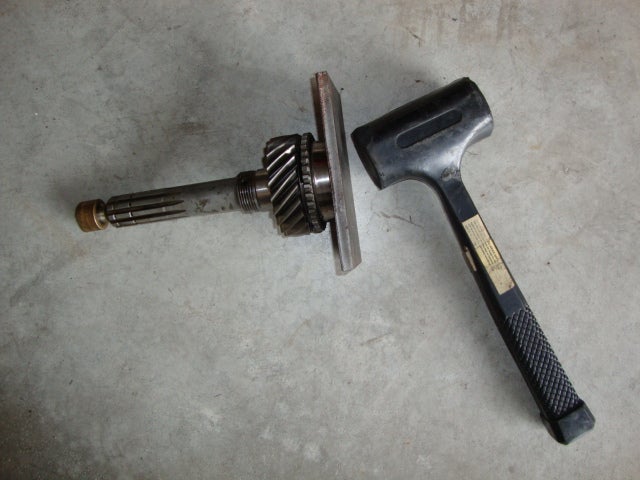 I also use my old shaft as my alignment tool cause I find the plastic one in the clutch kits is far too loose.
---
Mark 70 Z28 M22 3.73 Z21 Z87 - Lunati 20120121 Roller Cam

To view links or images in signatures your post count must be 10 or greater. You currently have 0 posts.

Gold Lifetime Member
Vince
Join Date: May 2005
Location: Bay Area
Posts: 2,464
Re: Pilot bearing removal
---
I've always done the grease thing too but bread or TP sounds a little cleaner!
---
1967 327 4spd convertible 119K
1968 RS Z/28 04D Norwood have owned twice
1968 RS Z/28 04D Van Nuys asleep for 36 years
1969 Z/28 X33
Senior Tech
Ashlee and Andy
Join Date: Dec 2008
Location: Indiana
Posts: 178
Re: Pilot bearing removal
---
5/8 bolt and tap works good, run the tap theu the old pilot bearing then run the bolt thru the hole and it should pull the old bearing out
Senior Tech
Join Date: Mar 2002
Location: Castle Rock Co.
Posts: 446
Re: Pilot bearing removal
---
Don't do this on LS type motors with the center drilled crank. You will drive the freeze plug into the engine.
Senior Tech
Kevin
Join Date: Feb 2003
Location: Beverly Hills Fl.
Posts: 583
Re: Pilot bearing removal
---
We used clay.
Senior Tech
Jon
Join Date: Dec 2002
Location: back in the Hew-Hess-Hay
Posts: 5,497
Re: Pilot bearing removal
---
I read that you don't want to use this trick on a LS engine, since they have a hole clear through the crank that is blocked off with a freeze plug that goes to the inside of the crankcase. Be sure to use a puller instead.
---
Jon N

The only reason someone would want insurance is if they want to pay someone elses bills or want someone else to pay their bills.