Tyler
Join Date: Jun 2006
Posts: 21
Good deal for disk brakes?
---
Seen this ad in a catalog i got in the mail today. Front and rear disk brake conversion kits for $999.95 if you buy them together. Says the rear kit is for an A body, but does it really matter? Anyway, heres the scan: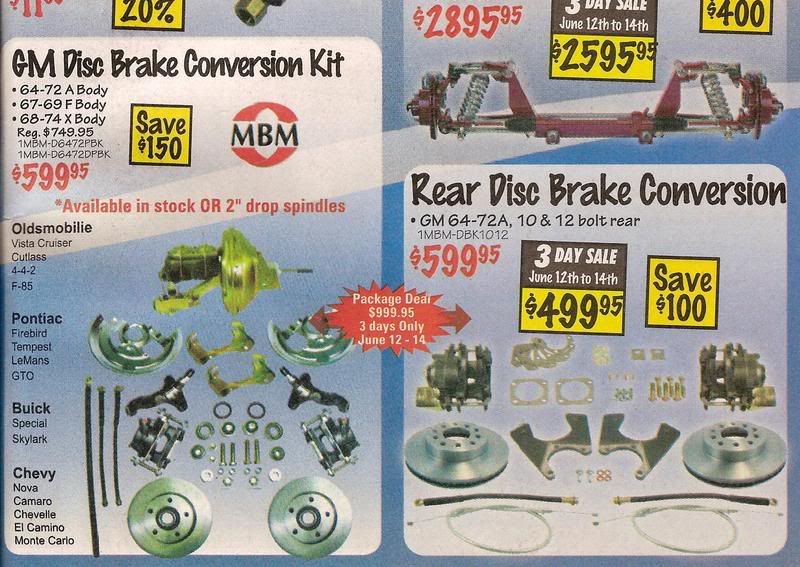 Senior Tech
Len Barron
Join Date: Dec 2007
Location: Oceanside, CA.
Posts: 472
Re: Good deal for disk brakes?
---
That's about the going rate for the stock replacement/conversion kits, if you shop around (there's a bunch on ebay) you can usually negotiate zinc plated rotors in the kits. Some of the front kits come with new pre-bent tubing as well (mine did).
---
Len
67 SS-350 Convert.
406/200r4/12b 3.73's Truetrac

To view links or images in signatures your post count must be 10 or greater. You currently have 0 posts.

Tech Team
Join Date: May 2006
Posts: 98
Re: Good deal for disk brakes?
---
I have the same rear kit that I could sell you REAL cheap. I am replacing it with brakes that will actually stop the car.

But honestly, the rear calipers don't work worth a CRAP. They just don't apply enough pressure to the rotors. With the rear end jacked up, even when I really lay into the pedal, the rear wheels don't even come close to stopping. I have eliminated every other part in the system other than the calipers. The master cylinder is 1-1/8" bore from a vette with 4 wheel disk (new, and replaced the new one with another new one in case the first was defective). Every single line is brand new, and the proportioning valve is eliminated. I have bled with the pedal, I have bled with a vacuum pump. There is no air in the system. They just don't work!

Just my .02, but I would go with either Wilwood or SSBC.
Tyler
Join Date: Jun 2006
Posts: 21
Re: Good deal for disk brakes?
---
Thanks for the input...if thats the norm for front brake kits, i'll just hold off. It was the rear disk setup that perked my interest, but after reading hybryd67's opinion on the kit; it pretty much made up my mind. Thanks for the help.
Gold Lifetime Member
Scott
Join Date: May 2005
Location: Houston, TX
Posts: 2,362
Re: Good deal for disk brakes?
---
I have had the SSBC front and rear on my 68 for several years and had absolutely no problems. Lot of time but not that many miles.
Michael
Join Date: May 2008
Location: Rockford, IL
Posts: 10
Re: Good deal for disk brakes?
---
Good imput. Someone on this site mentioned that the Right Stuff Detailing Kit was real good when I inquired. I am also shopping and found their system is versatile in that they have a set price for the conversion kit and then you can upgrade to chrome booster and MC, or slotted rotors or painted calipers, etc... for nominal extra charge. I am about 90% set on purchase. (unless someone on this site raises a red flag)