Tech Team
Phil
Join Date: Mar 2008
Location: arkansas
Posts: 52
Steering column problem
---
Has anyone had an experience with the steering column in a floor shift 67 camaro with the turn signal housing pointing toward the floor instead of being parallel with the dash. Its probably angled down 30 degrees from horzontal. This of course makes the emergency flasher angled up on the other side. I've taken the turn signal switch out and can find no adjustments are anything that could be assembled wrong. The column cannot be twisted because it is 4 bolted to the steering column mount bracket. I wonder if the upper assembly is for a different column? I purchased the car like this. Its really got me stumped! Thanks!
Senior Tech
Join Date: Jan 2004
Location: Saginaw, Michigan
Posts: 1,122
Re: Steering column problem
---
The head of the 1967 standard (non-adjustable) steering column "cam locks" into the jacket. Most people don't realize that you don't have to remove the turn signal switch screws completely in order to remove the column head. It is possible that "Bubba" may have jammed everything back together.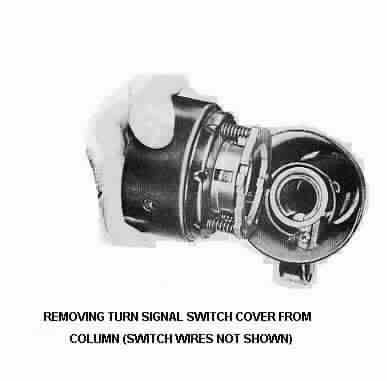 This paper may help in diagnosing the problem.
Word.doc format
http://jimshea.corvettefaq.com/wp-co...ev17ja2009.doc
pdf format
http://jimshea.corvettefaq.com/wp-co...1rev17ja09.pdf
Jim
Tech Team
Phil
Join Date: Mar 2008
Location: arkansas
Posts: 52
Re: Steering column problem
---
Thanks so much, I finally realized that the plate that slides over the column turns clockwise and locks to the column. This holds it in place when the three machine screws are tightened and puts the turn signal and emergency flasher in perfect position! Thanks again!
Tech Team
peter
Join Date: Jun 2002
Location: lake in the hills, il
Posts: 73
Re: Steering column problem
---
thanks jim, your photo saved me. my turn signal is 30deg off and from what phill posted, i'd say i need to tighten them screws more.
am i correct?
---
__________
'67, rs/ss
Tech Team
peter
Join Date: Jun 2002
Location: lake in the hills, il
Posts: 73
Re: Steering column problem
---
yep, tighten the screws....
Thanks Jim/phil
---
__________
'67, rs/ss