Senior Tech
Dan
Join Date: Feb 2007
Location: Summerfield, NC
Posts: 547
Got my track tires
---
Got my track tires mounted and ready to go.
I was worried about getting something that would fit because the car is lowered and the specs on the rally wheels are a lot different than my big street wheels (offsets are different).
Here's a picture I took during lunch after throwing them on the car (just to make sure they fit).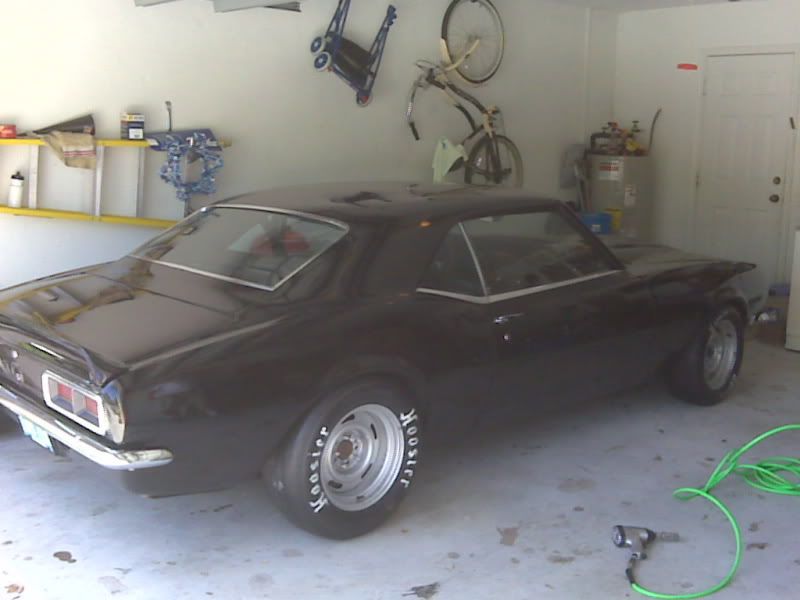 Specs:
Front:
15x7 Rally Wheels with 4 1/4" backspace
Hoosier 225/60/15. The footprint of the tire is bigger than a standard 225.
Rear:
15x8 Rally wheels with 4 1/4 backspace
Hoosier 245/60/15.
The tires are DOT track wheels with a little bit of a tread pattern.
Can't wait until Sunday!
---
Dan

1968 RS - Black
408 w/ Muncie 4 speed & 12 bolt rear
Deluxe Houndstooth Interior
Dropped 2" with TeamIII Mini-Lites

Click for Picture:

To view links or images in signatures your post count must be 10 or greater. You currently have 0 posts.

Senior Tech
Dan
Join Date: May 2003
Location: Fort Lauderdale Fla.
Posts: 237
Re: Got my track tires
---
Nice tires Dan! Tell me what changes youve made to your cars suspension since your last track run, also will your car have to go through tech inspection to run at Sebring or do they let everybody on the track. I would love to go and watch you run although I am trying to finish an interior project on my 68 this weekend. Good luck to you and drive safe. Dan
---
68 camaro RS 327/275 THM350 4 wheel disc brake 8.5 10 bolt 3.42 daily driver
Team Member
Doug
Join Date: Jul 2006
Location: Mi
Posts: 2,368
Re: Got my track tires
---
Looks like it would be a candidate for super stock class. I like it! Looks great Dan!