Senior Tech
Guillaume
Join Date: Jun 2003
Location: France
Posts: 101
Wheel adapters
---
Hello,
I am thinking about changing the wheels on my 67 Camaro.
I recently saw a Nova on pro-touring.com with 2000 SS Camaro wheels: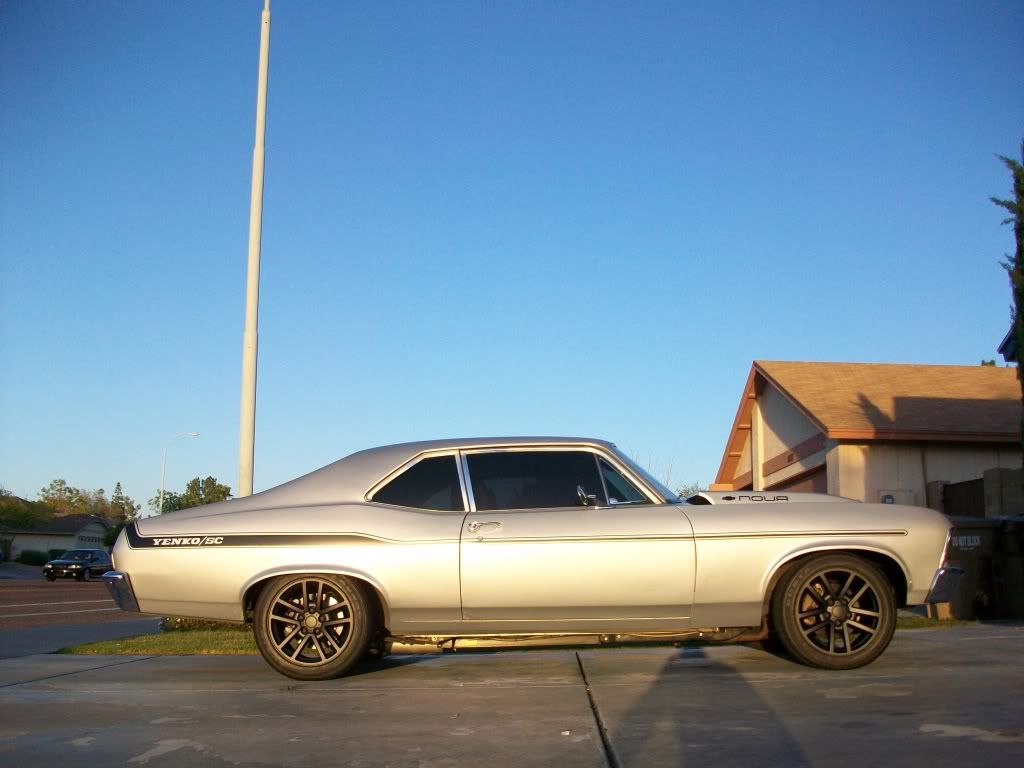 I have found that these wheels only exist in 17x9, with 7" backspace:
http://www.summitracing.com/parts/NAL-12498899/
So that would require a 2" adapter to be able to put it on the Camaro (I think it would still be tight on the front).
Do you this size of adapters is safe? Will it kill the bearings quicker than wheels with the correct backspace? is there a risk to drivelike that?
What do you think?
Does someone here has a Camaro with these wheels, I would like to see a picture in order to see if they look as good on a Camaro as they do on the Nova
Guillaume
Re: Wheel adapters
---
I personally wouldn't run a 2" adapter, just for safety reasons. As far as a risk, i would think there is a definite risk of prematurely wearing down parts and stressing them out.
---
I NEED TO HIT THE LOTTERY
To view links or images in signatures your post count must be 10 or greater. You currently have 0 posts.

Senior Tech
Join Date: Jul 2009
Location: Corona, CA
Posts: 104
Re: Wheel adapters
---
The risk of Billet Adapters has been argued for as long as I've been doing wheels (10yrs).

I personally have run adapters in the past as a temporary app until I could get into a wheel I custom built for a project, and during those times, I never ran into an issue.

The cons are really in the pricing. A good, billet, adapter can cost about 75 bucks each, and at that price, you are almost into custom building a cast wheel to fit, like a Billet Specialties Legends Series, or StreetLite, or a Vintage Wheel Works, so if you are only going to run the Camaro wheels and the adapters for a short time, I wouldn't bother, and just save the additional few hundred bucks to get the wheels you really want.
Join Date: Apr 2000
Posts: 21,341
Re: Wheel adapters
---
Please do your wheel search HOMEWORK very GOOD b/c I bet that if you look hard/long enough that you will find what you want that will fit.

I now have Pony-car "Bullitt's" on my car after redrilling everything b/c I think they are onna the greatest looking retro wheel ever made.

And later I found out that Verda make's them in our 4.75" bolt pattern so go figure!

It's even crazier b/c guy's fit BMW rims on our old cars too!!

pdq67




Senior Tech
Guillaume
Join Date: Jun 2003
Location: France
Posts: 101
Re: Wheel adapters
---
thanks for your answers,
for the moment, I didn't find reproduction wheels with the correct backspace.
I will continue searching
Guillaume