Probationer
Discount Tire
Join Date: Jan 2011
Location: USA
Posts: 73
Check Out the NEW B/G RodWorks Gasser
---


B/G Rod Works Gasser

The Gasser is a new Hot Rod style currently offered from 17-20". The all metal cap, large lip, and flat spokes yield unique
styling while incorporating a nostalgic appearance. The new Gasser design will be available in 2011, be one of the first customers
with a set on your classic car.
Click here for:
Sizes, Specs, and Pricing on the NEW B/G Rod Works Gasser
TECHNOLOGY
1-Piece cast construction
Excellent brake caliper clearance eliminates the worry of wheels not fitting.
Conical seat lug-holes match our Gorilla lug nuts.
Single drill bolt pattern for that extra clean look
TPMS Friendly means any OE or after-market tire pressure monitoring sensors will fit.
SIZE & OFFSET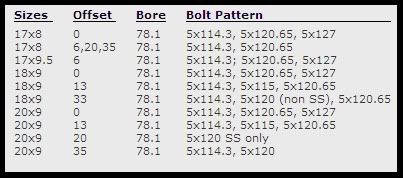 WARRANTY & RATINGS
Lifetime warranty on workmanship and material defects
One-year warranty on finish defects
1598lb. load carrying capacity
Any additional questions can be directed or found here:
Warranty BG RodWorks
MEDIA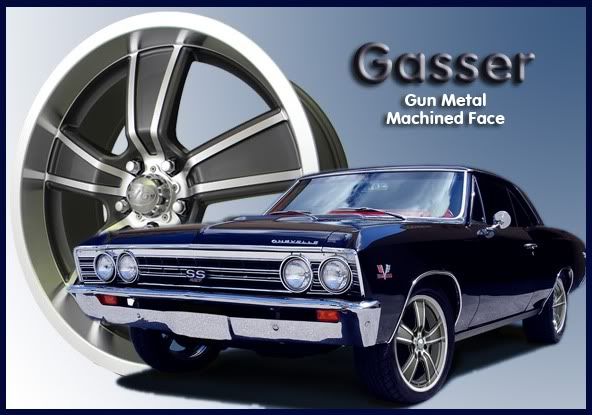 B/G Rod Works™ aims to provide consumers four basic things:
1. Customer service and support remain at the heart of our daily operations. It's our goal to have 100% customer satisfaction
in all business activities. Without satisfied customers there is no need for our company or the services we offer. Today, we have
many of the same customers our founder serviced in his first year of business. Our customers rely on our company's
management experience gained from over forty years in the industry.
2. Quality - We strive to maintain the highest quality wheels and ensure this by an on-going testing and inspection process.
All wheels sold by us exceed SAE Standard J-2530.
3. Availability - We work hard to maintain regular manufacturing production cycles and good stock levels to ensure good
availability at all time.
4. Competitive Pricing - Although our wheels are not always the lowest priced, they are very competitive based on quality,
availability and service. Being the cheapest and having good quality don't usually go hand in hand.


If you are running the B/G Rod Works Gasser post a picture or two – we, as well as B/G, would love to see them.
---
Low Prices! More Choices! Trusted Experts!
At The Store:
To view links or images in signatures your post count must be 10 or greater. You currently have 0 posts.

To Your Door:
To view links or images in signatures your post count must be 10 or greater. You currently have 0 posts.