Tech Team
Justin
Join Date: Nov 2013
Location: Pennsylvania
Posts: 79
One or Two Piece Wheel
---
Can someone tell me if this wheel is a one or two piece. I'm under the impression it has to be a two piece because of the weld. The picture was taken from the back side of the rim. It's American Racing Torq Thrust II. The reason I ask is because I took all the measurements on the wheel and I can't find a two piece that matches exactly but I can find a one piece that matches exactly. The rim also has AR 505 stamped on it and I believe all series AR 505 are two piece. Strange I can't find an exact matching rim.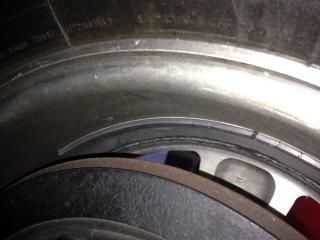 Senior Tech
Al
Join Date: Nov 2002
Location: Vancouver, USA
Posts: 10,511
Re: One or Two Piece Wheel
---
It's a 2 piece. You're correct - the 2 pieces are welded together. That's how they do custom backspacing on those, by moving the center where they want it then welding 'em together.
---
To view links or images in signatures your post count must be 10 or greater. You currently have 0 posts.
Tech Team
Justin
Join Date: Nov 2013
Location: Pennsylvania
Posts: 79
Re: One or Two Piece Wheel
---
Thanks that makes sense.