Apprentice
Michael
Join Date: Jul 2018
Location: Indianapolis
Posts: 10
New Torq Thrust Original (VN309) 17" on a 69 SS
---
I bought my car last summer. It had Goodyear ST's on it, which haven't been in production in 22 years.
They look classic but were total crap, and likely unsafe. Vibrated too.
After looking at threads for a while I was originally going with larger 'magnum' style or rambler wheels but they just didnt seem that good to me after about 6-8 months of watching/waiting.
It came down to 17" ralleyes or torq thrusts. I ended up going with the TTO's because they were about $100 cheaper per wheel.
Went with BFG Sport comp 2s
Specs: suspension - stock as far as I know
Wheels: American Racing VN309 17x7 and 17x8
Tire: BFG sport comp 2 - 225/50/17 and 255/45/17
This is a 26" tire (vs 24.6) so I had to go a tooth up on a speedo gear. (3.42 rear)
The car is totally transformed. Rides better, handles better, significant grip etc. And I really like the look. At first I thought the wheels were too light and considered powdercoating them. I'll probably hold off for a while.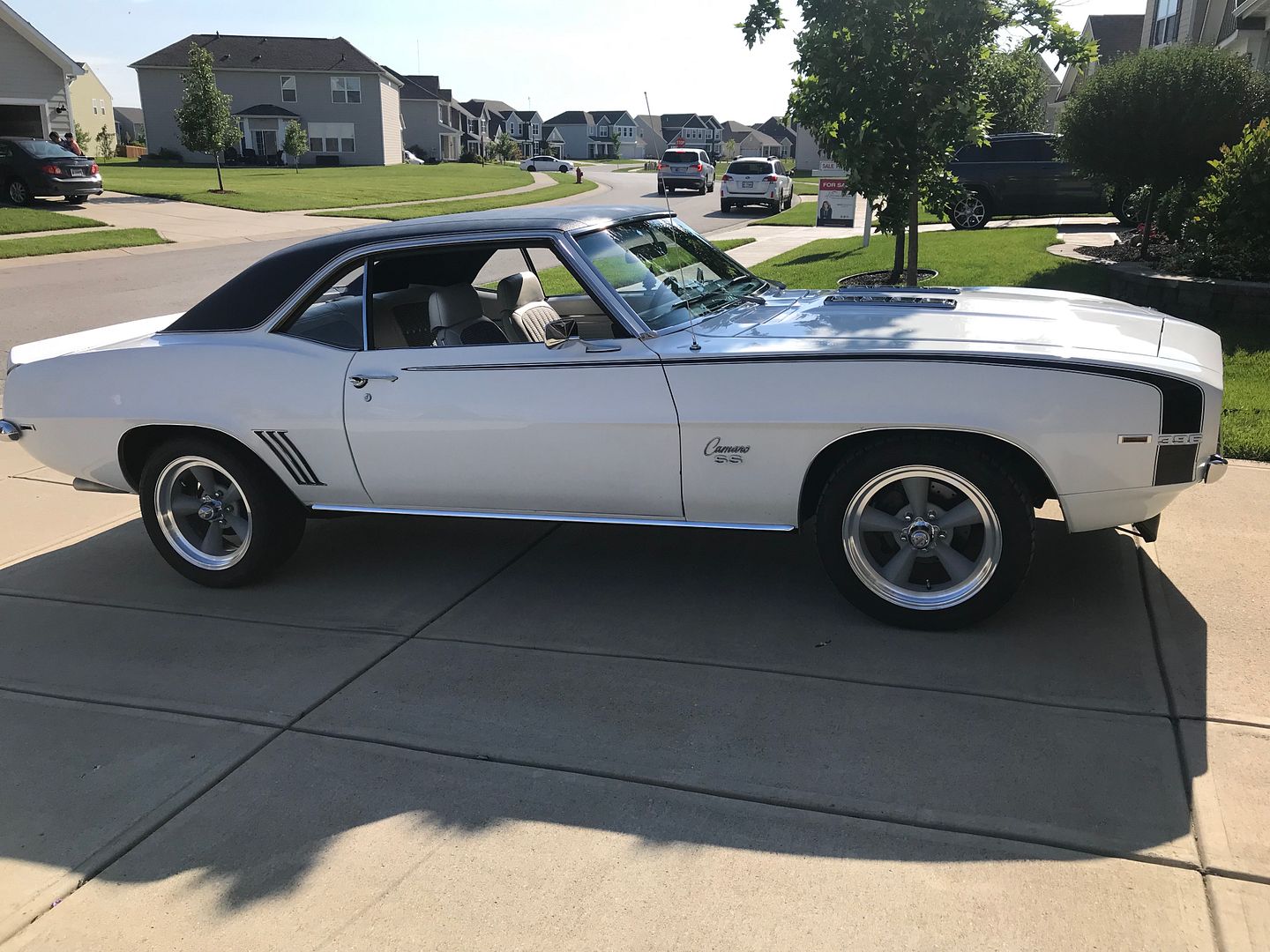 ---
69 SS 396 - White, white houndstooth, L34 w goodies, M21, 3.42 12 bolt
14 Grand Cherokee 5.7
17 Mazda CX-5 (wife)
Gold Lifetime Member
Matt
Join Date: Jul 2009
Location: Lauderhill, Florida
Posts: 1,041
Re: New Torq Thrust Original (VN309) 17" on a 69 SS
---
I have always loved the classic Torque Thrust wheels. They look great Michael! It's amazing what a difference a new set of tires can make.
---
1969 SS Garnet Red X55 350 Factory 4 speed
12 Bolt 3.55 Posi
461 BBC TKO600
Team Member
Ray
Join Date: Mar 2012
Location: North Jersey
Posts: 1,049
Re: New Torq Thrust Original (VN309) 17" on a 69 SS
---
I like the overall look of your car. Something about black accents on white really works. The lighter color spokes on the TT's compliments and ties it all together. Great looking car, good luck with it!
---
'68 rs/SS 350 M-21 posi
numbers matching
Moderator
____
Join Date: Mar 1999
Location: Maryland, USA
Posts: 19,301
Re: New Torq Thrust Original (VN309) 17" on a 69 SS
---
Looks WAY better
---
68 Camaro~LSx ~all motor
1.54 60'--6.95
@ 98.45 660'--
10.96 @ 121.53
Team Member
Don
Join Date: Jun 2006
Location: Mountain Springs, Texas
Posts: 3,458
Re: New Torq Thrust Original (VN309) 17" on a 69 SS
---
It looks good but I prefer the original wheels. That wheel is one of my favorites on these cars. Classic good looks imho. Canít help but wonder how the ride would have been with new tires on the original wheels. I hope you kept them.

Don
---
1969 Camaro LSA 6L90E AME subframe and IRS
1969 Camaro vert LS3 4L65E Ridetech level 2 - sold
1959 El Camino project
1969 Mustang Sportsroof project
To view links or images in signatures your post count must be 10 or greater. You currently have 0 posts.

1956 Cameo project - C5 drivetrain
1957 Buick Caballero project
Re: New Torq Thrust Original (VN309) 17" on a 69 SS
---
Looks great! Do you have any potential tire rubbing on the rear quarter? I see your car is lifted up a bit. Mine is stock, but I'd like to use 255's if I can be sure they will fit. Thanks for sharing, super nice car!
---
69 Z-28-Glacier Blue, X-77
Tech Team
Tom
Join Date: Feb 2016
Location: Colorado
Posts: 56
Re: New Torq Thrust Original (VN309) 17" on a 69 SS
---
Love the Torq-Thrust Original wheels the most. Ever since Steve McQueens Bullitt movie I have thought these were the best wheel design ever. I would miss the white lettering on the tires though!
Senior Tech
Larry
Join Date: Apr 2017
Location: Las Vegas NV
Posts: 521
Re: New Torq Thrust Original (VN309) 17" on a 69 SS
---
They look great to me, I like them so much that ...
I also have them on my 67. Mine have been on the car for 22 years now.
I've like the Torque Thrusts for ever and a day.
---
I can't complain, but sometimes I still do.