Join Date: Nov 2006
Posts: 1
any reccommendations?
---
Hey Im lookin to put some rims on my black camaro with silver stripes but im not sure which way to go...they are namely for looks so no performance necessary...just lookin for somethin that willl look nice
Senior Tech
AJ
Join Date: Jul 2006
Location: AUSTIN TEXAS
Posts: 3,842
Re: any reccommendations?
---
american racing torque thrustII wheels are always nice, for a black car id choose the un polished ones with the cast finished, or chrome ithere way is nice... if i had to choose rims again instead of my torque thrust rims id choose boyd coddington smoothies 17X8 17X9 if i had to do it again...
---
The only Mustang I'd ever own is a Fender.

'68 333" Camaro
'14 5.0 Mustang
Senior Tech
Join Date: Jan 2004
Location: NYC
Posts: 657
Re: any reccommendations?
---
It really comes down to "how much do you want to spend? There are so many choises out there. Now most of the better wheel companys offer choises in finish. The hot look is contrasting finishes from the hoop and center section. Polished, brushed, powder coated, mixed and matched anyway you want. Try
www.budnik.com
and look at the finish section. Boze Wheels, HRE, offer similar choises but these wheels do get pricey. It just depends on what you're looking for and where your budget is at.
---
Jack
Senior Tech
Rex
Join Date: Mar 2004
Location: longview tx
Posts: 662
Re: any reccommendations?
---
check your email
---
69 x-11..LS1, 420.88 horse to the tires,750 Holley Ultra DP, Torquer V2, darksides headers, PRC heads, 10.8:1 compression, forged bottom end, 5 speed. 2008 King Ranch F150 4x4.
Tech Team
Join Date: Oct 2006
Posts: 33
Re: any reccommendations?
---
trex 70
I have 15x7 Torque Thrust II's all the way around on my 68'. However, I am leaning towards moving to 15x8" Rally Sports for the rear and 15x7" for the front. I am going to back burner this decision until closer to Spring 07.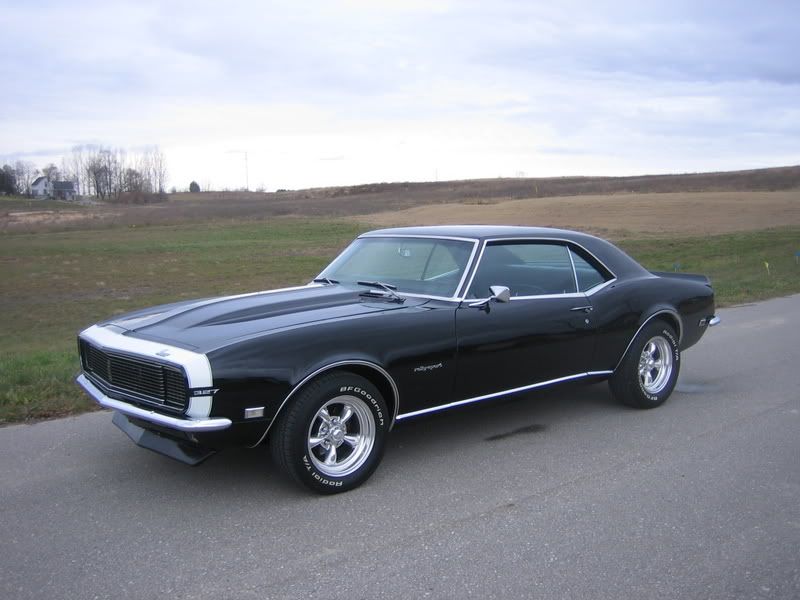 Join Date: Apr 2000
Posts: 21,341
Re: any reccommendations?
---
As silly and old-school as this may sound, see if they don't still make "Roadstars" or "Road Stars"!!

They were/are a mulitple triangular holed steel chrome deep dish wheel that looked great to me!!

Talk about a great old-school look that just fits on our cars!!

pdq67