Tech Team
Randy Mitton
Join Date: Jun 2013
Location: Canmore,Alberta,Canada
Posts: 47
motor cable tie downs
---
wondering if these cable engine tie downs were used on all v8 engines,mine are still on and curious, as my motor is not a performance motor by any means,thanks in advance, Randy
Team Member
Jack
Join Date: Jul 2013
Location: Menifee, CA
Posts: 146
Re: motor cable tie downs
---
---
69 Z28 x77 Hugger Orange / Deluxe Houndstooth / M21 / 4:10 posi / Canadian Docs

To view links or images in signatures your post count must be 10 or greater. You currently have 0 posts.

Senior Tech
Join Date: Aug 1999
Location: Ontario, Canada
Posts: 564
Re: motor cable tie downs
---
The cable tie downs were used on engines with solid throttle linkages, when the motor motors deteriorate the engine would lift on the left side and go to wide open throttle, (and actually experiencing its gut wrenching) Later GM introduced a new style motor mount that has a metal tab under a hoop between the upper and lower portions of the mount, if you have these new style mounts no need to keep the cables.
Senior Tech
Join Date: Oct 2006
Location: Canada
Posts: 4,942
Re: motor cable tie downs
---
Rob was bang on. There were a few of surprised drivers back then, althought the cables were usually tossed and lost.
capt
---
Bumper sticker- I'm not SPEEDING
I'm QUALIFYING!

Re: motor cable tie downs
---
Quote:
wondering if these cable engine tie downs were used on all v8 engines,mine are still on and curious, as my motor is not a performance motor by any means,thanks in advance, Randy
The restraining cables were part of the motormount recall, issued in 1971, two years after the 69's were built. The cables were never installed on the assembly line - only by dealers doing the recall fix.
---
JohnZ
CRG
Senior Tech
kevin
Join Date: Mar 2012
Location: virginia
Posts: 3,752
Re: motor cable tie downs
---
just to be safe, I still use a 3/8 turn buckle fastened to the head and to the frame
Gold Lifetime Member
Robert
Join Date: Dec 2003
Location: Bowie, Maryland
Posts: 397
Re: motor cable tie downs
---
I have them on my Camaro, both sides, however passenger side is a single cable wrap around the exhaust manifold and motor mount. I believe this was used on air condition cars; I don't have air however.
---
1969 Camaro RS Hugger Orange - Work in Progress - You see rust, I see restoration!
Re: motor cable tie downs
---
I am sure the recall was for all first gens with V-8s. This is a copy of the recall letter. Also is a picture of the old motor mounts with a separated one at the top. The new mounts are interlocking with rubber between the metal plates.
Roger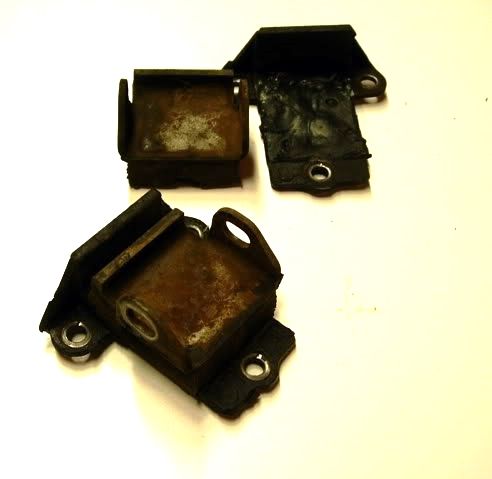 ---
1967 Camaro SS/RS 350/295HP Coupe. First and only owner.
---
Last edited by rogerh; Jun 29th, 14 at

09:38 PM

.