Tech Team
Red
Join Date: May 2008
Location: canada
Posts: 30
Water Pump
---
I have a 350 engine block about 1979 I just had it rebuilt but the water pump hole on the passengers leaks coolant the 2 bolts that hold the water pump are threaded but the one below is not and that is the one that leaks has any one heard of this the old block it was a dead end hole but this seem to go into the water jacket is that possible. Thanks
Senior Tech
Steiner
Join Date: Mar 2009
Location: Lyman, SC
Posts: 8,348
Re: Water Pump
---
The lower hole is the bypass hole. It circulates water back through the pump from the block when the thermostat is closed.
The SBC water pump gaskets look like this, the one with three holes is used on the passenger side. Some bolts go into water jacket, I use sealant on all of them.
---
'69 Camaro
Dart 400-AFR 195-224/224 HR-Powerjection III TB with F.A.S.T. Sportsman XFI
TKO 600-Moser 3.42-Detroit Truetrac
500hp/538lbft

To view links or images in signatures your post count must be 10 or greater. You currently have 0 posts.

'69 Camaro Beater-SFT 327-M20-Moser 4.10-sold
'02 Z/28 vert-stock-sold and totaled
Senior Tech
Dave
Join Date: Dec 2005
Location: Tampa, Florida
Posts: 4,680
Re: Water Pump
---
There are only four bolts used to attach the water pump to the block. As Steiner said the by-pass is internal on the small block, but it is external on the big block. Here is a picture of the front of the block showing the by pass hole in the block just below the water entrance into the block.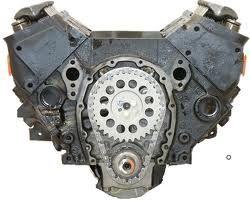 And an exploded view:
All four bolts go into the water jacket (as do all of the head bolts, and four of your intake bolts), and you (or your engine builder) need to use sealant on the threads to keep coolant from SLOWLY wicking out of the motor. If you have water pouring out I would suspect a torn gasket or a foreign object (such as the old torn gasket that wasn't scraped off) caught between the block and the water pump that prevents the pump from seating properly.
Big Dave
Tech Team
Red
Join Date: May 2008
Location: canada
Posts: 30
Re: Water Pump
---
OK Thanks I used a electric water pump so hole is not covered they tell me to tap and plug it. I think the engine builder should of plugged it when he had the heads off and built the motor.