Gold Lifetime Member
Jon
Join Date: Jul 2005
Location: IN
Posts: 283
Braided fuel lines
---
Getting ready to plumb my new engine for fuel lines. Was originally planning to use braided line with AN fittings, in particular the Aeroquip FCP0138 & FCP0101 kits. After doing some research, there was a lot of debate over braided fuel lines weeping/smelling over time. Most of the posts though were fairly old. Should I still be concerned about this? I like the look and ease of installation from the braided kits, but would I be better off running solid lines for pump to carb? And if solid lines, what is the best option for the dual feed for the carb? Engine is a 383 with a Holley 110 gph pump & Quick Fuel 680.
Gold Lifetime Member
Steve
Join Date: Nov 2005
Location: Modesto, CA
Posts: 2,371
Re: Braided fuel lines
---
Braided line can start seeping after about 10 years. The fittings are reusable, just replace the hose when they start to seep.
---
'69 Camaro - 429 SBC Dart Iron Eagle 9.325" block, Crower crank, Crower 6" billet rods, Ross pistons (10:1), Total Seal rings, AFR 245 heads, T&D steel body shaft rockers, Cloyes Timing set, custom ground 4-7 swap solid roller 274/286 @ .050" with .704" lift, Dart single plane, Holley Dominator EFI on E85, Injector Dynamics ID2000 Injectors, Stef's #1705R oil pan, F2 Procharger, Lemons 2" primary 4" collector, ATI 9" blower converter
Senior Tech
Wendell
Join Date: Mar 2005
Location: Boston MA
Posts: 340
Re: Braided fuel lines
---
Where's your fuel pump? If you're talking about a block mounted mechanical pump, I wouldn't worry about the short shot of braided line. I would not run braided line from the tank to the engine. Not only is it slightly porous, but it's a lot of work to secure it properly. I run 1/2" hard line from the tank to the engine. Better product for the job and makes for a neat installation. I've done it on a few street and race cars.
---
1967RS
Senior Tech
Doug
Join Date: Apr 2008
Location: Hopewell, Virginia
Posts: 1,424
Re: Braided fuel lines
---
Jon, I would use the braided stainless steel if that is what you like. I have had braided stainless steel on my 67 Camaro for at least 10 years and I have no leaks. Use Aeroquip or Russell Performance hose and fittings for a great look.
Senior Tech
Joe
Join Date: Jul 2012
Location: Apple Valley, CA
Posts: 460
Re: Braided fuel lines
---
I just installed braided fuel line with AN fittings on my '65 chevy van (has a B&M 144 blown 400 sbc). I invested in the Koul Tool, which made putting the hose into the fittings manageable. Still a royal pain in the ***, but I have no idea how anyone puts braided hose into the fittings without using the Koul Tool or something similar. Even with the tool, you really have to manhandle the braided lines to get them to go in the fittings. It works, but takes alot of effort and its slow going. Cursing a bit during assembly seems to help.
---
The important thing here is that you ask me what kind of car I've got. "I've got a BITCHIN' CAMARO"
To view links or images in signatures your post count must be 10 or greater. You currently have 0 posts.
'68 350 4 speed
Senior Tech
Dave
Join Date: Dec 2005
Location: Tampa, Florida
Posts: 4,672
Re: Braided fuel lines
---
Cheap braded hose is made with a rubber lining that is not alcohol resistant. It will dissolve over time giving a you a fuel leak. Your fuel line has to be lined with TFPE plastic: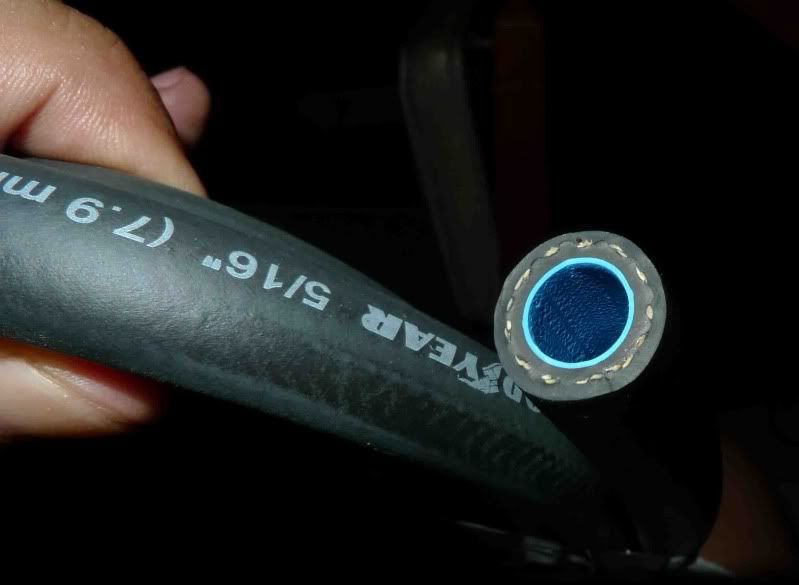 or else it will look like this inside:
Here is why it starts to smell after a while. This is a braided line with the stainless steel sheath removed that has been exposed to alcohol: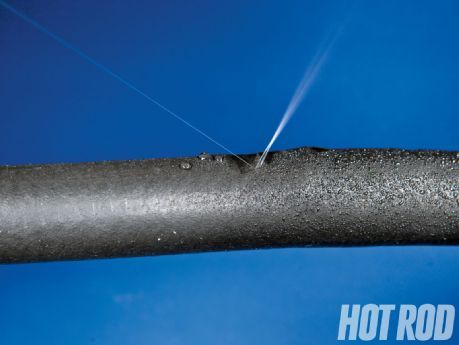 Even 1967 era Neoprene gas line will rot over time as it wasn't formulated to resist alcohol:
The end result of using cheap braided steel hose could be this:
By the way stainless steel braided line was NOT used because it looks cool on a race car or because they needed the abrasion resistance (the reason it exists inside aircraft in the first place) but because it was cheaper to buy military surplus hose off recycled Viet Nam era helicopters arriving on the west coast than it was to go down to NAPA and buy new neoprene hose. Racers used it because it was cheap not the most expensive solution for fuel line that they could find. Take it from an old fart who scored 20 of 20 on the Baby Boomer test, I remember this stuff like it was yesterday (I just can't remember yesterday).
Big Dave
Senior Tech
Mike
Join Date: Dec 2006
Location: Pennsylvania
Posts: 229
Re: Braided fuel lines
---
Dave,

The one pic shows fuel injection line, is that not alcohol resistant either?