Senior Tech
Jon
Join Date: Jun 2016
Location: Northern Virginia
Posts: 119
Carb Fuel Inlet Question/Issue
---
Howdy all,
Got my new Q-Jet installed; 7047202 part number, Dec 1966 build, which should be right based on my car's Jan 1967 assembly date. I went to install the fuel line today, a 5/16 inch line. As you can see, that's too big. Most of the conversations I've seen have been about 5/16 versus 3/8. Obviously, 3/8 isn't the answer. My question - is something missing from the inlet on my carb? It's a rebuild I bought from a company called United Remanufacturing, and this is my first carbureted vehicle so I'm learning as I go.
Cheers,
Jon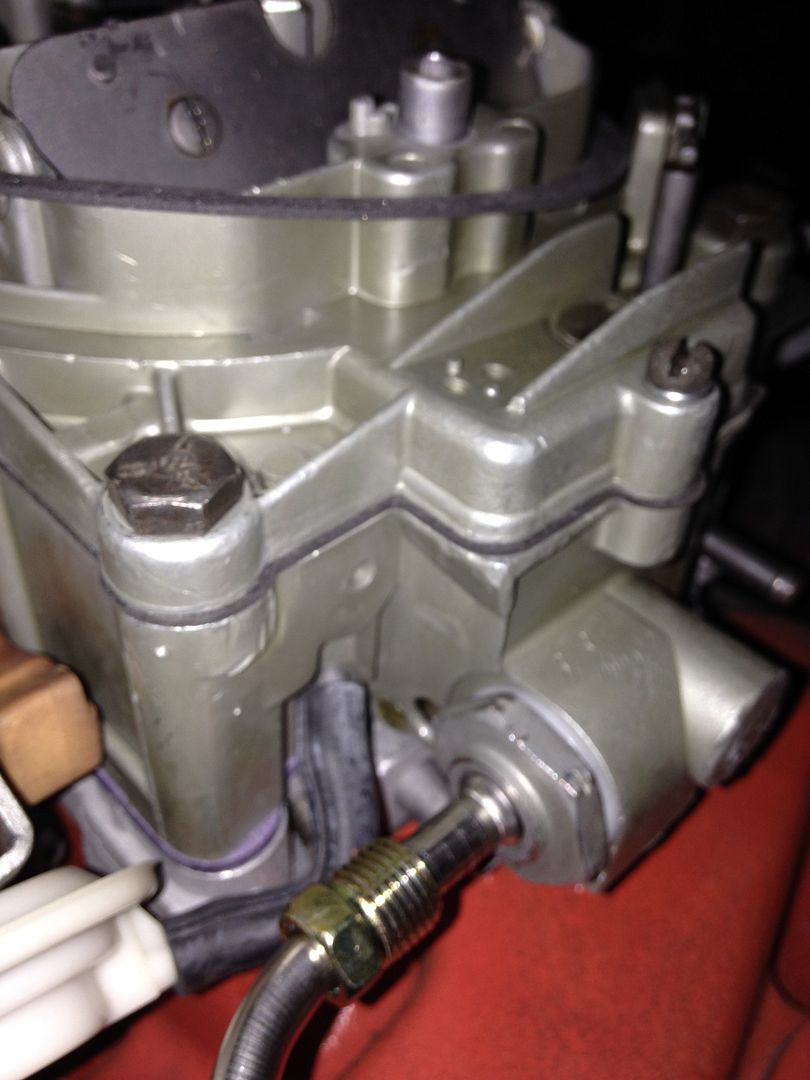 ---
67 RS, 327/275, PG

Born Sierra Fawn on Gold, now Bolero Red on Gold

Not sure how many owners, but she's mine now...
Senior Tech
Tom
Join Date: Jun 2001
Location: Rochester Mn
Posts: 7,751
Re: Carb Fuel Inlet Question/Issue
---
---
69 Camaro -originally a LM1 car. 327, Edelbrock E-streets, hooker, DUI performance distributors, ultradyne cam, stewart, TRW etc. Vintage Air, AGR steering, Corbeau GTSII seats, 700R4 transmission, 12-bolt w/Eaton 4.11:1
Gold Lifetime Member
Mike
Join Date: Sep 2012
Location: Illinois
Posts: 579
Re: Carb Fuel Inlet Question/Issue
---
Seems like your rebuilder didn't provide the correct fitting. 5/16" line is correct for a 327/275 hp. That fuel inlet nut doesn't look correct. It's usually a much wider nut that you will need to hold with a wrench while you tighten up the fitting. Make sure you retain that white gasket as that is what prevents leaks and the temptation to over tighten resulting in stripped or cracked inlet threads.
---
1967 RS 327/275hp
Admin/Super Moderator
Brian
Join Date: Jun 2010
Location: Connecticut USA
Posts: 12,509
Re: Carb Fuel Inlet Question/Issue
---
Yeah Doesn't look like a Holly fitting?
You most likely need this fitting:
Quadrajet Parts Dot Com - 7/8 x 1/2-20 - Inlet Fitting
Quote:
Fits:
Rochester Quadrajet carburetors
Fits Rochester 4G carburetors
Fits Rochester 2G carburetors
Carter / Edelbrock AFB, AVS carburetors
Carter WCFB carburetors
Holley carburetors

OAL: .650"
Thread length: .300"
Male Thread: 7/8-20 male
Female Thread: 1/2-20 female w/ inverted flare (accepts 5/16" steel gas line)

Quantity: 1 (Seal is included with fitting)

Replacement gaskets available:
#2231

Quadrajet carburetor note:
7/8" inlet fittings are found on all 1965 thru 1971 automobile and truck Quadrajet carburetors, plus all year marine Quadrajet carburetors.
7/8" diameter inlet carburetors can be identified by the location of the inlet gasket, it will be located up against the tightening nut of the inlet fitting. After installation of the 7/8" inlet fitting on the carburetor, the inlet gasket is visible.
---

To view links or images in signatures your post count must be 10 or greater. You currently have 0 posts.

1969 Z11 Pace Car - L48 350cid/300hp - 4 Speed Muncie 12 bolt rear.

Super Moderator Team Camaro
To view links or images in signatures your post count must be 10 or greater. You currently have 0 posts.
to send me a private message