Tech Team
mike
Join Date: Dec 2007
Location: spring tx
Posts: 52
horn
---
just starting to repair small items on 67rs ss---horn is blowing
when i turn steering wheel-----has walnut wheel -----------thanx
Senior Tech
bill
Join Date: Jun 2007
Location: parlin,nj
Posts: 1,902
Re: horn
---
did you screw around with the steering wheel at all. if you did that washer in wheel beveld is in back wards
Senior Tech
Join Date: Jan 2004
Location: Saginaw, Michigan
Posts: 1,122
Re: horn
---
This is not the best picture as to the cancelling cam and horn tower but it does show the rest of the parts. I assume that you have a standard (non-adjustable) steering column.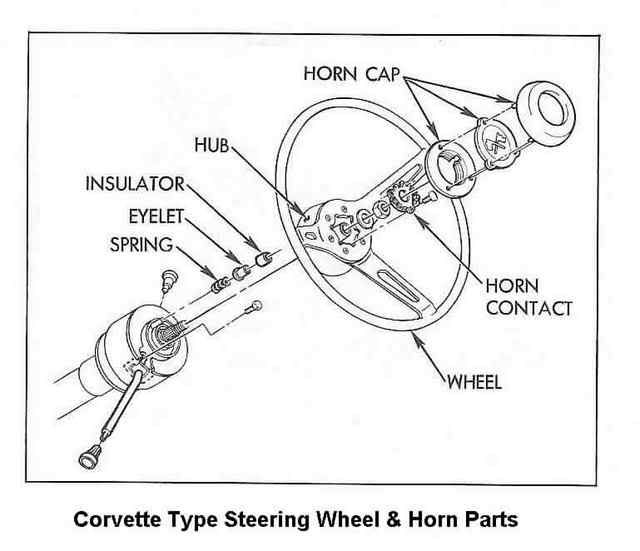 The turn signal cancelling cam (not shown on the drawing) should be the first part to be installed on the steering column steering shaft. Then the large bearing preload spring (also not shown). The cancelling cam has a tower that is molded into it. That tower fits up inside a hole in the steering wheel hub. You drop in a small spring, then the eyelet, then hold everything inside the tower by pressing in the plastic insulator. You should have the end of the eyelet sticking out through the steering wheel hub. It should be spring loaded so it can slide in and out of the hub. When you install the horn contact, the eyelet should always be touching the contact. When you push on the horn button you should compress the horn contact completing a ground circuit for the horn relay that is under your hood or under the dash somewhere.
JIML82
---
Last edited by JIML82; Dec 15th, 07 at

05:28 PM

.
Re: horn
---
Yes, I had this problem on an aftermarket steering wheel I installed....The horns would start blowing whenever I turned the steering wheel!!.....It turns out the small spring, which drops into place, distorted and bent and partially worked it's way out from behind and was making contact with the hub, grounding itself out, when it shouldn't have, everytime I'd turn the steering wheel either way!.....I must have had something installed wrong because when I disassembled and reassembled, everything was OK.