Senior Tech
Al
Join Date: Nov 2002
Location: Vancouver, USA
Posts: 10,511
Help Designing Relay Circuit
---
I have my RS headlights wired with a home made electric motor system. They operate off of a 2 pole momentary toggle switch mounted by the cig lighter. The switch wiring reverses polarity, causing the doors to open or close depending on which way you toggle the switch. I'd like to add some relays (bosch style) to this system and mount them on the core support so that all of the juice isn't running through the switch, but the polarity reverse thing has me confused. I'm certain (hopeful) that one of you electrical whizzes can help me design this circuit. Thanks!!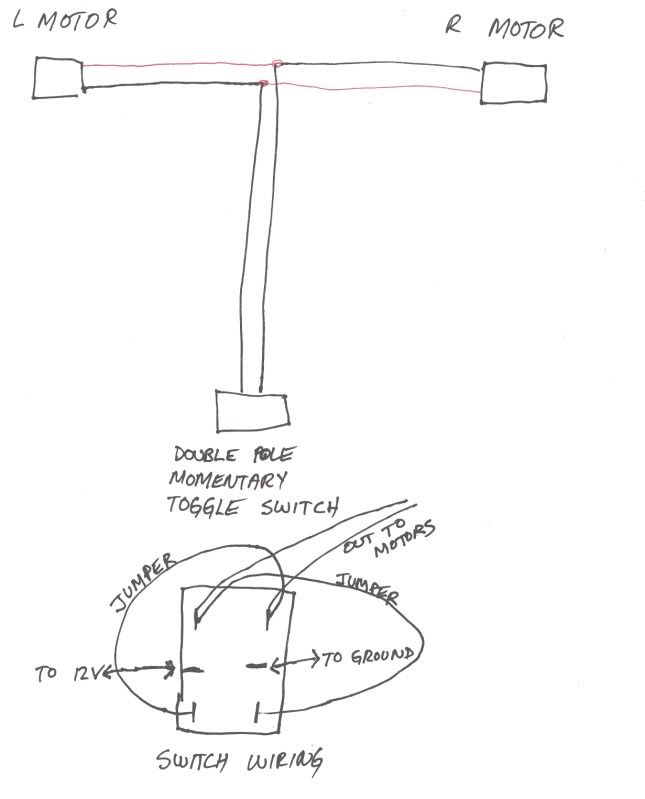 ---
To view links or images in signatures your post count must be 10 or greater. You currently have 0 posts.
Senior Tech
Alan
Join Date: Oct 2007
Location: SoCal
Posts: 3,903
Re: Help Designing Relay Circuit
---
Well, as long as the switch is rated for the correct current, why not just run a fuse of appropriate capacity and call it done. The reason for a relay is to save the switch but if the switch is rated for enough amps, you are set. Should something short out, the fuse is your safety here.
Are you just running the doors to stall and then releasing the button? I think the original circuit had limit switches which prevented motor stalling, the door would just go as far as it needed to and when it hit the limit switch, the whole circuit was de-energized. The limit switches will be easier on your actuator motors.
If you want relays, you probably want 2 single pole single throw relays. Allelectronics has pretty cheap automotive relays (part #RLY-351 these are single pole double throws, you just don't use terminal 87A). Allelectronics also has relay sockets (part #SRLY-2 and SRLY-12)
This might help you as well:
http://www.autoshop101.com/trainmodules/relays/115.html
alan
alan
---
Last edited by alanrw; Sep 11th, 09 at

03:37 PM

.
Senior Tech
Join Date: Jul 2006
Location: Poway, CA
Posts: 500
Re: Help Designing Relay Circuit
---
what's your goal with this circuit? manual control of the doors regardless of headlights being on or off? why not set it up like the 67's stock system?
Senior Tech
Join Date: Mar 2002
Location: Austin, TX, USA
Posts: 5,277
Re: Help Designing Relay Circuit
---
I'm not sure I interpreted your description of the switches in your circuit, but wanted to clarify the need for limit switches. When the doors are fully open or closed they should trip a limit switch to open the motor circuit. The switches are momentary single pole double throw. The normally open contact (N.O.) has a diode accross it so that you can reverse the polarity and drive away from the limit switch.

The relays will need to be wired somewhat like a flip-flop circuit with the motor connected to the common switch contact of each relay. I'll have to give some thought to the relay wiring. It would be ideal if the relay coils were only energized while the motor was moving. Perhaps you can search the electrical forum for an OEM circuit. It'll probably involve two relays, and perhaps a couple of diodes to work as you desire.

Hope that gives you part of what you're looking for at least.
---
Dave
========================
68 Coupe, 350 w/ Edelbrock Performer RPM heads, cam, intake, 700R4, Dave's small body HEI