Andy
Join Date: Feb 2012
Location: Nh
Posts: 29
Horn reassembly
---
I had an aftermarket steering wheel on the car when I bought it. I am now installing the correct deluxe wheel. The cancel cam that came out was broken and the spring seated on the part closest to the wheel
the new cancel cam locates the spring on the reverse side and doesn't want to slide on the steering shaft very far to contact anything.
with a little effort I'm sure I could force it to go farther down on the shaft to make contact with the pin on the column. When I was trying to figure out the correct order to assemble the horn contact it didn't seem like every thing fit well, as I am not sure of the correct order either.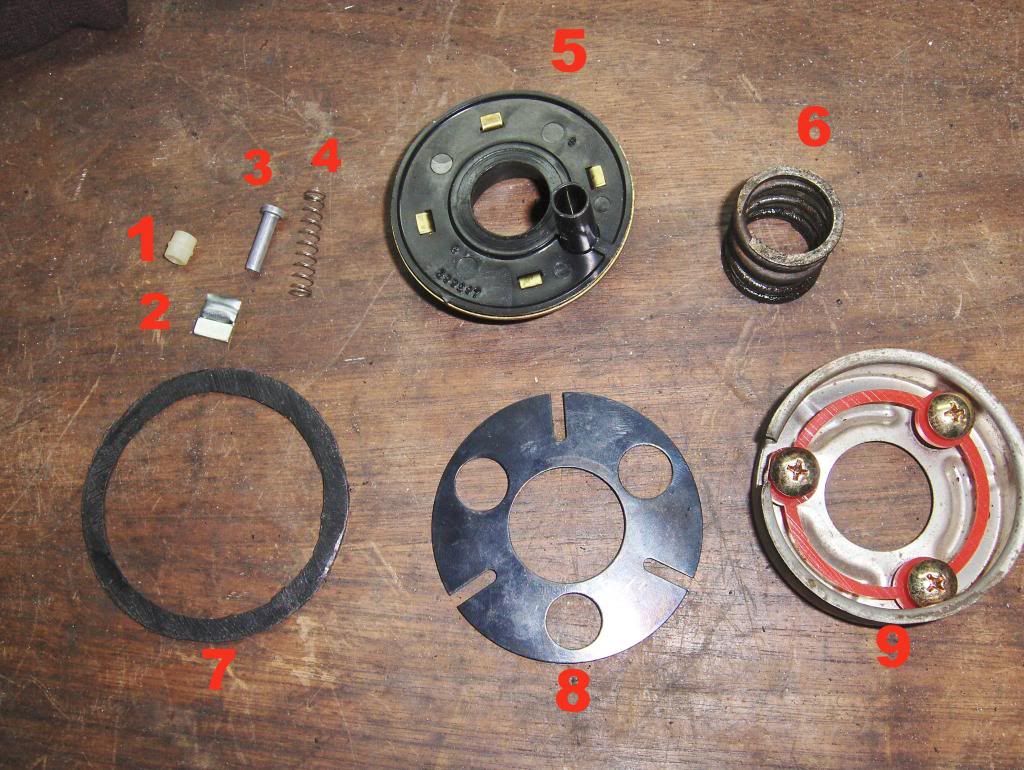 When I dry fit the parts on the bench it seems like the cancel cam sits to far in the wheel and the part I have labeled 1 seems to protrude the inner wheel section and wouldnt allow 7-9 to seat properly. Any one have any insight?
Senior Tech
George
Join Date: Jan 2011
Location: Madison, WI.
Posts: 407
Re: Horn reassembly
---
Andy,

The AIM will give you general assembly guidance. If you have a '67 for example, you can view the assy sequence at UPC12, D2, page 176. If you should have a different year vehicle, you can get the downloadable AIM pdf's at CRG uder the general discussion forum. Hope this helps. GW
Senior Tech
Big daddy
Join Date: Oct 2000
Location: oklahoma city,okla.
Posts: 529
Re: Horn reassembly
---
I have a 67,that I need to get all those parts,is there a place I can get them?
---
67ssclone 383 4spd 3.73 vintageair
Re: Horn reassembly
---
Parts 5 and 6 are correctly assembled in your second pic. The first thing down the shaft is the spring then the cam. If you have a locking column (like 69) it goes next then the snap ring. The Steering wheel will compress the spring on the 67-68 models.

The small spring #4 goes into the post sticking up on the cancelling cam, then the pin #3 then the collar #1 that locks it in. once the wheel is installed the pin will contact the back of #8

Jeff