Senior Tech
Rich
Join Date: Jun 2001
Location: High Desert, CA USA
Posts: 1,213
67 Camaro Grille Running/Turn Signal Lights...
---
After taking my beater Camaro to the drags a few weeks ago my buddies really liked the car but said those Pep Boys parking lights have got to go. I bought some 67 parking lights (Thanks Joe) but the problem on my car is someone cut the wires on the front headlight harness so there are no sockets to plug into the parking light housings. I'm sure others have had this problem (no sockets) so this is what I did. I searched around and found these 3 LED mini lights (Summit carries them #UPD-37967) for $9 bucks each, I got the amber/amber ones.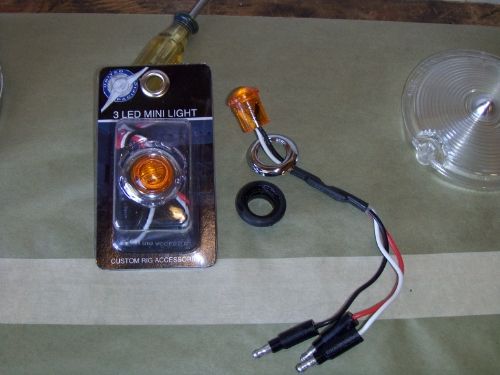 I peeled up a half of the inside lip (where the bulb goes) flipped it over and poped it out with a small screwdriver.
Then remove the rubber grommet and install in the housing (no cutting or trimming) then push the LED light into place. It fits nice and snug.
Wire it up and mine looks great with new lenses and gaskets (Oh and the screws from the Camaro parts house are to short with new gaskets and lenses so heads up) Here's the final install with the parking lights on. Hope this helps somebody, Thanks Rich.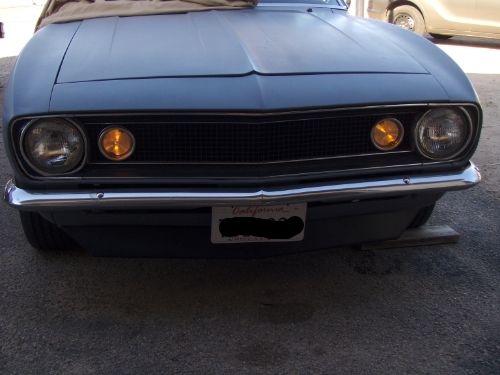 ---
"There comes a time in every man's life and I've had many of them" Casey Stengel
Gold Lifetime Member
Vince
Join Date: May 2005
Location: Bay Area
Posts: 2,551
Re: 67 Camaro Grille Running/Turn Signal Lights...
---
Nice
---
1967 327 4spd convertible 119K
1968 RS Z/28 04D Norwood have owned twice
1968 RS Z/28 04D Van Nuys asleep for 36 years
1969 Z/28 X33