Join Date: Sep 2001
Posts: 64
---
Hi everyone,I'm trying to redo my battery connections because thay look messy and I realize the importance of good electrical hygene.I've added a hot for my fuel injection,elect. fuel pump,MSD 6a,and electric fan.I'm using the top post to go to the starter, and the side posts for everything else.
Is there a block made by someone that I might use to run the batt.to for better distribution,or is there another way? Thanks in advance-John. P.S.it's on a '69 SS with a 350.
Senior Tech
Join Date: Apr 2003
Location: Allen, TX
Posts: 2,108
---
I am using a Phoenix Gold Battery Terminal (1/0 gauge, and 2 8 gauge connections) which runs the Starter, Alternator 8 gauge wire, and 8 gauge running to the Fuse Box mounted right about the battery on the wall, 2 fuse gold, bought from Radio Shack. Currently has a 30 amp for the MAIN wire connection (now 8 gauge running from fuse box to horn relay, no more crappy terminal connection using 12 gauge without a FUSE!), the other connection is set aside for a stereo amplifier in the future. I then use my side posts for an external fuse holder that runs 8 gauge (overkill) to the MSD 6A. Sorry I didn't take a picture yet but will when I get a chance.
This is 'similiar' but not exactly what I have
(1) 1/0 connections, (1) 2 gauge, (2) 8 gauge connections, Lightning Audio Bolt BCMOP1
or
Stinger Custom Pro Series STISBTMP
Both found at sounddomain.com
For the side post if you want a few clean connections maybe go with a Scosche 24K EFX side post connection
If you can't find one of those, you can always convert the SIDE POST into a 'Top Post' using $10 converter from Streetwire available at crutchfield any anywhere else, then use a top post that gives you 2 to 4 8gauge allen wrench hookups.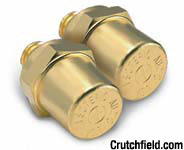 I use one of these just above the battery, runs off an 8 gauge from the gold battery post and provides me two FUSED 8 gauge connections, one for the main wiring to horn relay, the other for car stereo amplifier (radio shack 270-704)
Then I use this off the side post currently for the MSD 6A power (available radio shack, kmart, autozone)
Yes I like fuses, I don't like car fires [img]smile.gif[/img]
[ 07-21-2003, 01:24 PM: Message edited by: Brian Lewis ]
---
1969 Camaro - GM 2003 Electron Blue
Beck Racing 383 cu in 465HP Engine - Sean Murphy Inductions Stage 2 Quadrajet
TCI Streetfighter 350 - 3.73:1 Posi 10 Bolt Rear - 12.6 sec qtr mile

To view links or images in signatures your post count must be 10 or greater. You currently have 0 posts.
and
To view links or images in signatures your post count must be 10 or greater. You currently have 0 posts.

Senior Tech
Join Date: Mar 2002
Location: Austin, TX, USA
Posts: 5,277
---
Those tab fuses...those are ATA aren't they. I've got a honkin tab fuse that handles 60 Amps. I used it for some radio equipment. Probably not necessary for what you're describing though. Just wanted to mention that there are lots of options for fusing and you definately should use one. If you're creating a high current tap off the battery, such as for stereo equipment, it's a good idea to fuse the ground as well. This way, a bad ground elswhere in your electrical system doesn't do weird things like attempt to pull starter ground through you nice new stereo amplifier.

-dnult
---
Dave
========================
68 Coupe, 350 w/ Edelbrock Performer RPM heads, cam, intake, 700R4, Dave's small body HEI
Senior Tech
Ray
Join Date: Sep 2000
Location: Central FL
Posts: 271
---
I would look at the Circuit Boss products by Painless Wiring. They are towards the bottom of this page:
http://www.painlessperformance.com/catalogframe.htm
These auxilary fuse blocks use a relay to control extra fused ignition hot circuits and also have additional fused always hot circuits.
If you only need always hot circuits, look just above these on the above page at item# 30002, which has four always hot circuits. (This is the same part used in the Circuit Boss products, but with no relays for ignition hot circuits, and isn't prewired.)
---
68 SS Convertible, Yellow(77 Corvette)
383 w/ EFI on MiniRamII, Trick Flow heads
TKO600 5sp, 3.31 12 bolt Posi
Guildstrand Mod, Baer 13" front brakes, Hydroboost
2016 *ustang front and rear leather seats.

2008 G8 GT
Senior Tech
Mark
Join Date: Feb 2002
Location: LR AR
Posts: 2,372
---
Hook up to the two bottom screw terminals on the horn relay. That is hot wired direct to the battery. That is where I would hook up any added accessories. It is clean, free and already installed. [img]smile.gif[/img]

-Mark.
Senior Tech
Paul
Join Date: Sep 2001
Location: Queen Creek AZ
Posts: 3,677
---
Yes, horn relay!!!
In order for the voltage regulator to properly manage the system voltage, the accessories should be hooked up where voltage sensing occurs. In the case of a stock camaro wiring harness that happens at the splice near the horn relay. Another bad thing about coming off of the battery is the corrosion problem. With corrosion comes resistance and less current, with resistance comes heat and heat makes things melt and burn!
Good reading here:
http://www.madelectrical.com/electrical-tech.shtml