Gold Lifetime Member
Matt
Join Date: Apr 2012
Location: Florida
Posts: 262
Attaching pics in forum?
---
I've looked for about 30 minutes and tried to see what others have done, but no luck. I set up a photobucket account, but when I try to attach a picture using url is just pops an "x" in the post. Anyone who can step me through the process? Thanks
Re: Attaching pics in forum?
---
Are you using the "Insert Image" button?
Make sure the URL is good by pasting it into the address bar of a browser first, also make sure you do not have "http://http://" in there twice like that..
Post an example of a broken one here
Senior Tech
Mike
Join Date: Feb 2012
Location: Monroe, MI
Posts: 414
Re: Attaching pics in forum?
---
Try this to post pics in here:

1. In PB, as you hover over a picture, next to the pic file name is a little box, click on it to check it. Do this for all the pictures you want to display.

2. Once you have selected the pics you want, scroll down to the bottom of the PB page. There is "choose action" with a down arrow next to. Click the down arrow.

3. Select "generate link codes for selected". This will open a new window with the links.

4. Under "IMG for bulletin boards & forums" click on the box for "Full size". Once you click in that box it will display "copied".

5. Then in a thread use the paste function and it will paste the links to the pics.
---
Mike

An honest man's pillow is his peace of mind. JCM
Re: Attaching pics in forum?
---
You need the [IMG]picture[IMG] on the very bottom of the picture. Copy and paste that into your message and when you hit the post reply it will turn into a picture.
---
Mike
69 Camaro Prostreet - purple w/ghost flames , 502 w/ 871 blower


To view links or images in signatures your post count must be 10 or greater. You currently have 0 posts.

Senior Tech
Bruce
Join Date: Apr 2006
Location: Peoria AZ
Posts: 1,028
Re: Attaching pics in forum?
---
Apologies to the owners of the cars featured below...in the tutorial

Here goes!
First you'll need to go to this website
Easy Thumbs software
and download the FREE program. It's small and won't take up that much space on your hard drive.
Once you install the software you can 'tab' to a screen that looks like this:
Make sure that you change the default setting to 600, 600 or 800, 800 for bigger pictures, as in the circled areas. Also set your jpeg output quality to 80 or less...that normally keeps the file size manageable
You will then need to 'tab' to the 'preview output' page
and set up where you'd like to "store" the resized photos...as shown here. I normally save to the desktop for ease of finding them.

You can do one picture at a time, or a bunch. The program is really fast! (make..or make all)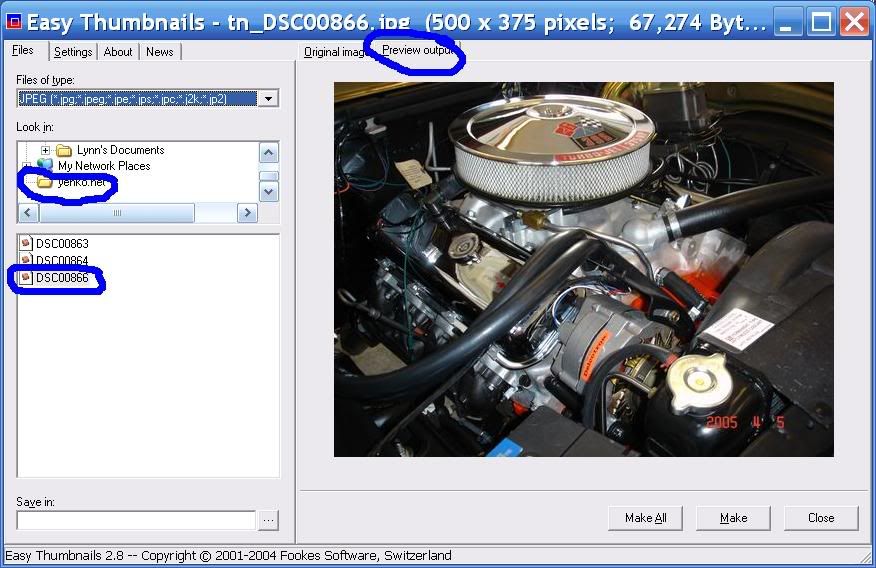 You'll then need to sign up here: Photobucket

The initial screen looks like this:
The sign up page looks like this: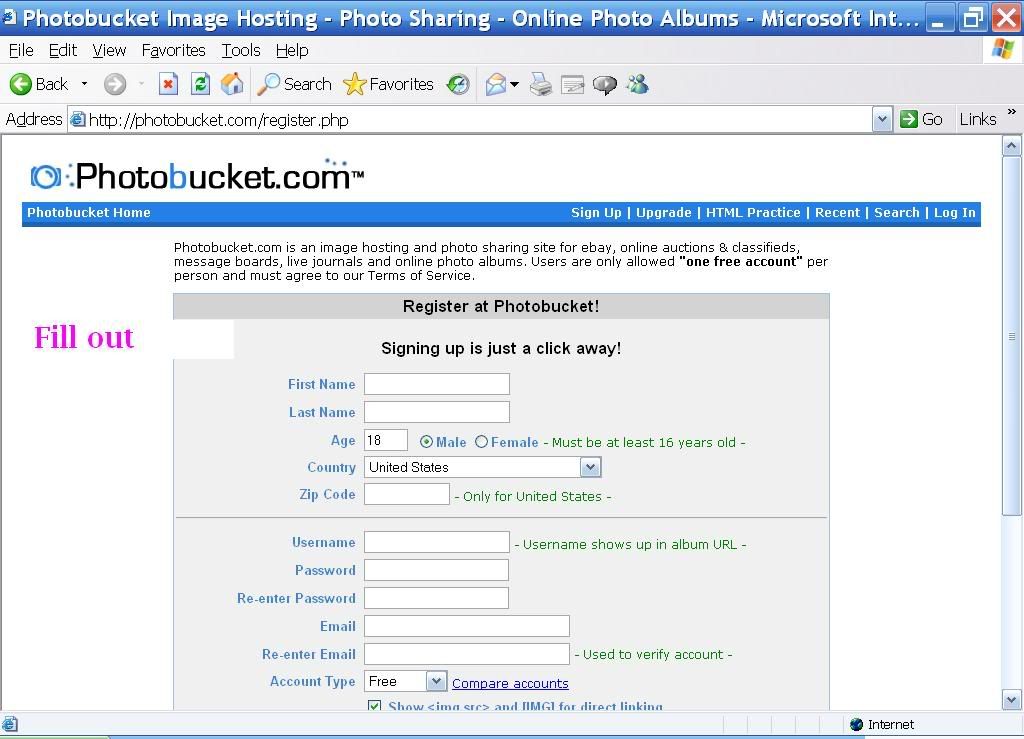 Once you sign up, you'll come to this page: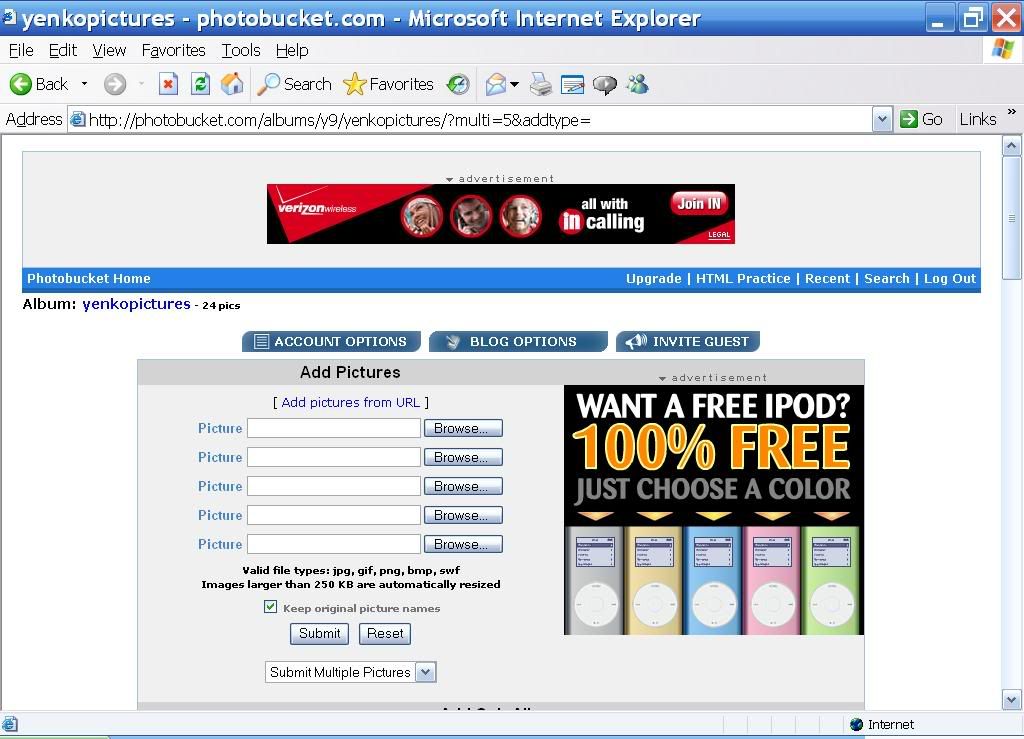 You can load one picture at a time, or as many as 19 pictures at once!(listed as submit multiple pictures)
Once the pictures are uploaded, all you have to do is 'right click' as shown in the photo below and select 'copy'. Then make your post on Yenko.net and wherever you want the picture...skip a line and then hit paste!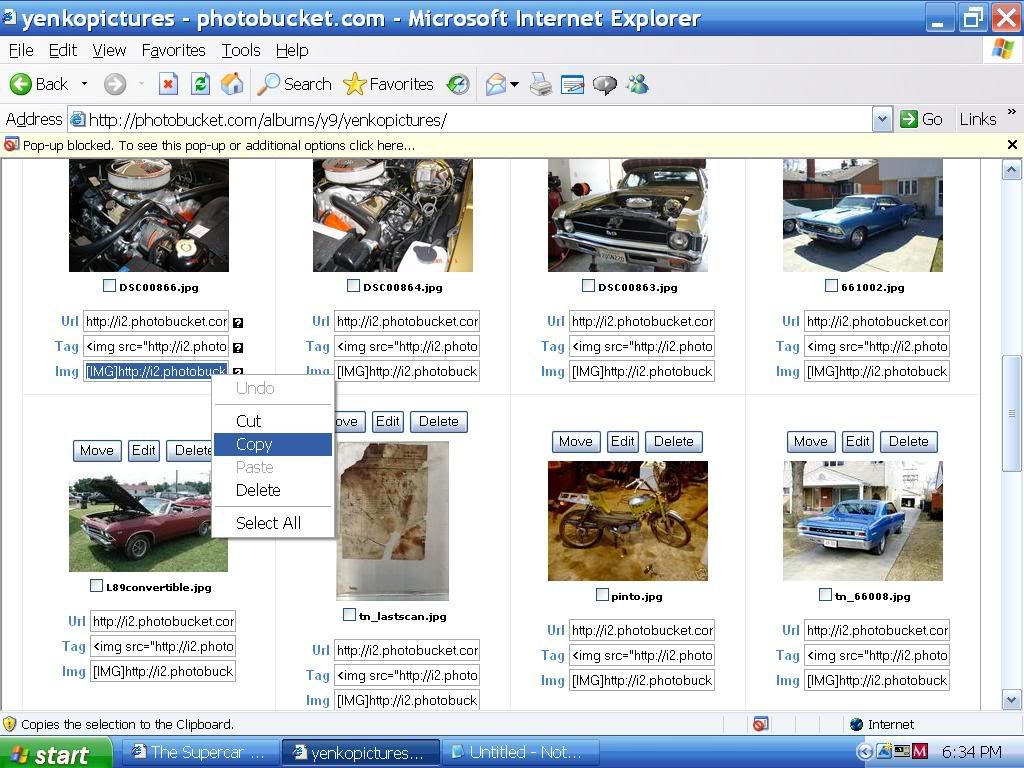 Bruce
---
Bruce
Donate Life, Become an Organ and/or a tissue donor