Tech Team
Ralph
Join Date: Mar 2019
Location: Massapequa, NY
Posts: 33
Seat Springs
---
Hey Guys,

Redoing my front seats on my 67 and found one broken spring in the center of the seat back. It broke on the radius. I dont feel I need to buy a whole new spring kit for one broken spring. I tried buying an 11ga zigzag spring off the internet but it was a different size. Anyone have advise, or maybe an old set they would be willing to offer up would be greatly appreciated.
Senior Tech
Wiley E. Coyote
Join Date: Dec 2017
Location: SoCal
Posts: 181
Re: Seat Springs
---
Upholsstery shops can get all kinds of different stuff.
Tech Team
Ralph
Join Date: Mar 2019
Location: Massapequa, NY
Posts: 33
Re: Seat Springs
---
Thats what i thought. I've called everyone / everywhere with no luck.
Senior Tech
Garth
Join Date: Jul 2008
Location: I 5
Posts: 7,321
Re: Seat Springs
---
How 'bout some brake line tubing bent to match the radius, then crimped on each end ? Or could probably weld a piece of heavy wire lapping over the existing spring.

Just some thoughts...
---
'68 RS, AA, 749, L30, M(uncie)20 (originally a 3spd), 15yr backburner resto........
Senior Tech
Tom
Join Date: Jun 2001
Location: Rochester Mn
Posts: 7,780
Re: Seat Springs
---
My Back Seat was repaired with some of these. They are available in many sizes. 1/32, 1/16, 1/8, 3/16, 1/4 etc.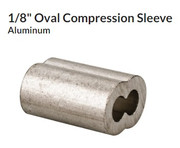 ---
69 Camaro -originally a LM1 car. 327, Edelbrock E-streets, hooker, DUI performance distributors, ultradyne cam, stewart, TRW etc. Vintage Air, AGR steering, Corbeau GTSII seats, 700R4 transmission, 12-bolt w/Eaton 4.11:1
Tech Team
Ralph
Join Date: Mar 2019
Location: Massapequa, NY
Posts: 33
Re: Seat Springs
---
Thats Funny Tom,

I have swage sleves in the shop and i never thought about using one..... My spring is broke in the radius so I'm not sure it will work but im going to check into it tonight. Great idea though!
Apprentice
Brad
Join Date: Mar 2008
Location: PA
Posts: 14
Re: Seat Springs
---
There is a guy on the Chevelle site that sells the correct springs. Or he can sell one a little kit with other items needed to repair/redo a seat. Look up "Rambo", he even has a sticky or two in the interiors forum.
Or you can acquire just about any era GM seat and use it for donor springs. However with a seat you will get way more springs than you need. Just about all 60s/70's GM seats all used the same springs.
One advantage of using Rambo is if you send him your old broken spring or maybe even good clear pi ture he can bend/form the new spring so all you have to do is install the new spring with BW clips. He can even.sell you as many clips as you need.
He also has a website for seat restoration. Don't recall the Web address but think there is a link in his signature on Chevelle site.
Gold Lifetime Member
Mike
Join Date: Jun 2018
Location: Yuma AZ
Posts: 56
Re: Seat Springs
---
Hey Ralph, message me to give address if you want this. It is a seat bottom spring i stole a couple side pieces from. You can have it for the postage to ship. Hard to see it has some reflection from shadow. I think one of the the long springs could be clipped together with your broken one. The spring has some clips on it that could be taken apart and reused.
Mike
---
67 RS SS 350 Butternut Yellow Vert all original 350 Muncie and 12 bolt.
67 RS Vert NOM 350 muncie.