Pete
Join Date: Nov 2012
Location: Qld, Australia
Posts: 4
Hi from Australia
---
I imagine there is a few Aussies already on here so Im nothing new. What is new to me is that I have just bought my 1st ever Camaro, a 2 owner 68RS.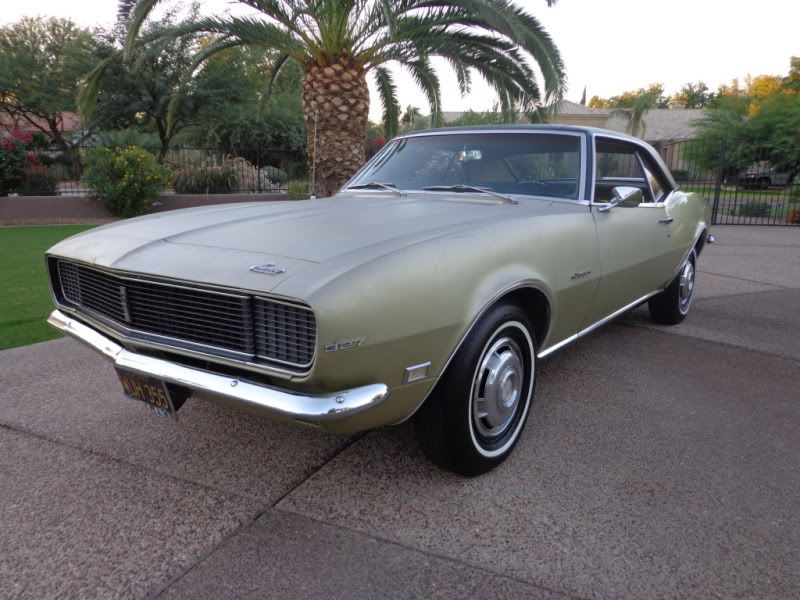 Its somewhat different to my 33 and 36 Ford coupes and Harleys so it should be quite the learning curve so please bare with any obvious questions - in return I promise to use the search function before posting any
Senior Tech
Tim
Join Date: Mar 2011
Location: Australia
Posts: 3,592
Re: Hi from Australia
---
Welcome Pete, you've come to the right place for all things first-gen. Nice looking car - is that (mostly) original paint? Looks like a California car from the front plate; What's the story, where's the car from and did you get any history on previous owners?
---
1969 04A Van Nuys-built Z/28. Cortez Silver with dark blue interior and VE3. Sold Clippinger Chevrolet. Raced at Lions in LA.
Senior Tech
Join Date: Oct 2006
Location: Canada
Posts: 4,942
Re: Hi from Australia
---
Welcome, m8 from another former colony.

As mentioned, a few Aussies, even a Pommie or two in the bunch, eh?

Nice ride! Must be a story here?

capt
---
Bumper sticker- I'm not SPEEDING
I'm QUALIFYING!

Moderator
____
Join Date: Mar 1999
Location: Maryland, USA
Posts: 19,343
Re: Hi from Australia
---
Welcome to TC
---
68 Camaro~LSx ~all motor
1.54 60'--6.95
@ 98.45 660'--
10.96 @ 121.53
Re: Hi from Australia
---
Welcome and have a Fosters on me
---
Click..is Jim..former owner of a 69RS-LM1 350/255 - 700r
"There will come a time when you believe everything is finished,
That will be the beginning." Louis L'Amour
Pete
Join Date: Nov 2012
Location: Qld, Australia
Posts: 4
Re: Hi from Australia
---
Thanks for the warm welcome guys. Car is a two owner vehicle based on the description provided by the seller. Was a Cali car most of its life then went to Az. Have all the original books and a lot of receiepts. Apparently original paint except for one rear 1/4 that was painted along the way so can only assume accident damage of some sort.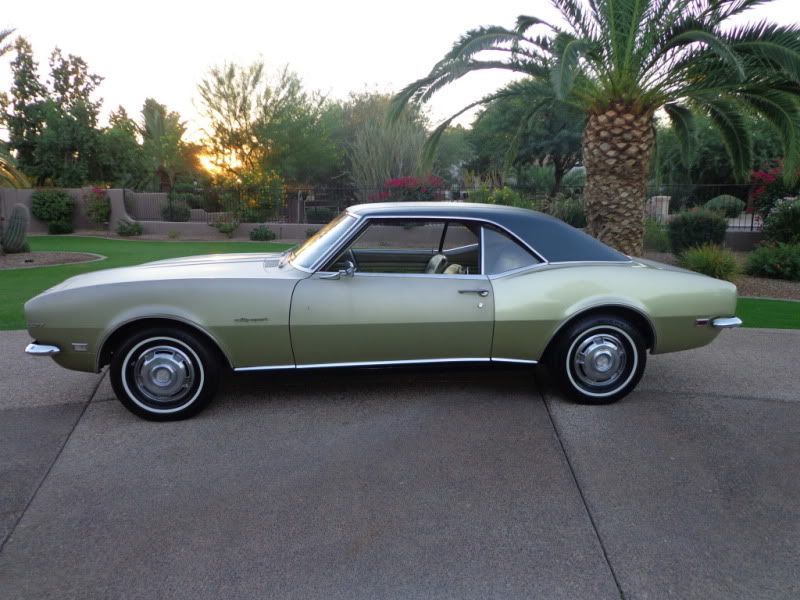 Was kind of a spur of the moment buy. Im not a body work kinda guy so it was appealing from that perspective as it looks to be really straight and rust free
Interior is a little ratty which one would expect after 112K mikes but seeing how original it all is my plan is to keep it unrestored, service and repair what needs to be done and drive it. The drivers seat cover is toast so would love to find an OEM one of the same colour and vintage that isnt ripped.
Super Moderator
Bess-68's rule
Join Date: Sep 2000
Location: Va Beach VA
Posts: 31,620
Re: Hi from Australia
---
Welcome, Pete.
Congrats on the correct year of Camaro.
She'll make an excellent daily driver.
---
Give a man a rescued dog for the health of both their souls. May 2017 ROTM Winner - Thank you!
'
To view links or images in signatures your post count must be 10 or greater. You currently have 0 posts.
CUBS - 2016 World Series Champions - maybe this year, 2019 ...
Tech Team
Scott
Join Date: Oct 2012
Location: Toronto, Ontario
Posts: 67
Re: Hi from Australia
---
Welcome Pete! Congrats on your purchase. Enjoy it.
Senior Tech
Paul
Join Date: Jan 2005
Location: Tennessee
Posts: 5,726
Re: Hi from Australia
---
Welcome to team camaro!