1969 L89 Road Test
---
I found this Big Three road test in a old Popular Hot Rod mag,I wonder were the car is today. Ed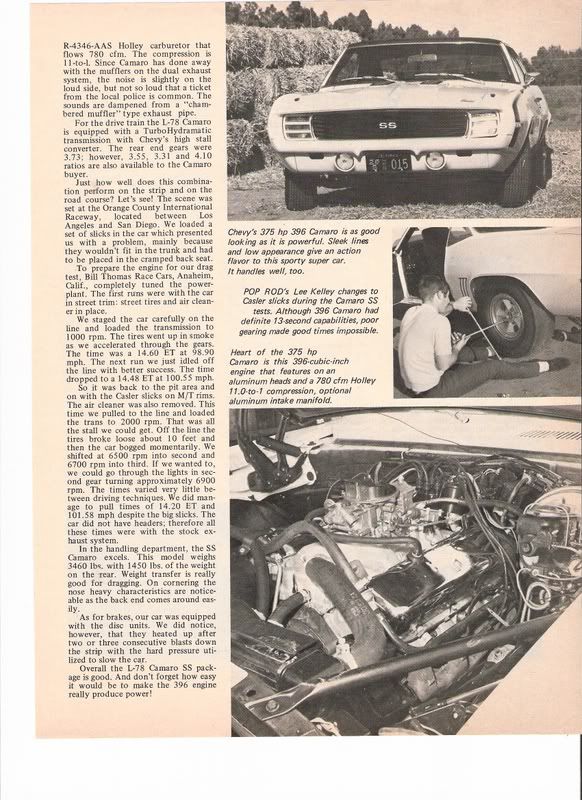 Re: 1969 L89 Road Test
---
How about the Z/28 article?

Yes, my manners are atrocious. Welcome Ed. I see you must have a Z/28 also.
---
"Government is not reason; it is not eloquent; it is force. Like fire, it is a dangerous servant and a fearful master." ..... George Washington

Gary,TC Member with a Lemans Blue/Ivory 02D X33, DZ, M20, MS, flat hood. Only the BU code rear end is original.
---
Last edited by Gary L; Oct 8th, 06 at

06:50 PM

.
Retired
Dennis
Join Date: Apr 1999
Location: Fortuna, CA
Posts: 26,456
Re: 1969 L89 Road Test
---
Hi Ed - a big welcome wagon greeting to you. I'm sure you'll find lots of great info and people here at TC... Next rounds on the new guy...
---
...Dennis
To view links or images in signatures your post count must be 10 or greater. You currently have 0 posts.
"Don't take life so serious, you won't get out alive..."
Re: 1969 L89 Road Test
---
The L89 car survives and was for sale a few years ago. Here is the text from the ad.

VIN:124379L507834

Tag:
ST 69 12437LOS171969 BDY
TR 713 50 B PNT
11A E675

His description:

This is YOUR chance to own one of the very few DOCUMENTED L89 Camaros. It is
probably the most highly optioned L89 car in existence!!! The car is
registered with the Camaro Research Group and Paul Schneider's L89 Camaro
Registry. It has the Protecto-Plate and I have even visited with the
original owners. This Los Angeles built car was featured in the April 1969
issue of Popular HotRodding where it was one of three chevys to be tested at
Orange County Drag Strip outside Los Angeles. Car was purchased at Gledhill
Chevrolet just a few miles from the Drag Strip for $5400 with 17 miles on
it. This is a RS/SS 396/375 horsepower car with the L89 Aluminum Head
Option. It is further equipped with a Turbo 400 Automatic. Research shows
that less than 69 L89 cars were made with an Automatic. Some of the rare
options included in this BIG BLOCK high horsepower car are: Tilt Wheel,
AM-FM Blue Light Stereo, Electric Windows, Fiber Optic Turn Signal
Indicators, Outside Remote Mirror, Endura Bumper, Vinyl Roof, Etc.!!! The
car also features the Ralley Sport & Super Sport Options, Power Steering &
Brakes, Posi-traction, etc. Car is Dover White with Deluxe interior (Black
and White Houndstooth Interior), Black side hockey stripes & Vinyl Roof.
Tires are in EXCELLENT CONDITION. It has all the original date coded glass
except the windshield that obviously was replaced at some time, deluxe dated
seat belts, 4 original dated YJ Ralley Rims, date coded pulleys, whitek
clamps, spark plug wires, exhaust manifolds, water pump, alternator,
starter, distributor, carburator, fan blade, bumper jack, etc. Even the head
rests are date coded and original. I have a brand new repo Delco R59 Battery
in it. It has the original engine with vin number stamped on the stamp pad
EXACTLY where it is suppose to be!!!! Also has the original Rear End! It has
a Turbo 400 CX Transmission with data plate on it which ALL L89 Automatic
cars MUST have and it has been totally rebuilt to CX standards but is not
original to this car. The CX trannnys are very special and built to
withstand the high horsepower engine. When it shifts, your head goes back!!
Protecto-Plate reads: 124379L507834 H T0916JM BT 1018G N 69X299 1133 3 and the Cowl Tag reads: ST 69 12437LOS171969 BDY TR 713 50 B PNT 11A E675 This is a first week November 1968 built car. Car was originally equipped with Chambered Exhaust but they had been replaced years ago. Has an original spare tire and rim. This car has all original sheetmetal and it
undercarriage has been cleaned and is nice and original. Has very good
interior, headliner, and carpet. I cannot guarantee mileage is original. I
only drive the car a few hundred miles each year. It has been garaged kept
at least the last 10 years of its life. Car was repainted about 10 years ago
by a previous owner along with a rebuild of the engine. Except for 8 months
in California, this car has spent its entire life here in Idaho.
---
William

CRG
To view links or images in signatures your post count must be 10 or greater. You currently have 0 posts.

Join Date: Nov 2005
Posts: 862
Re: 1969 L89 Road Test
---
Prolly at BJ on the block.
Senior Tech
Dan
Join Date: Nov 2007
Location: Central Jersey
Posts: 1,629
Re: 1969 L89 Road Test
---
Bill,Cooool,noticed the stamp date of the motor and the build date is much closer then the 1969 09A 124379N680303 L89 Jerry Mcneish Documented car.