1982 Camaro Indy Pace Car #1 Condition
1982 Camaro Indy 500 Pace Car - 8,809 Original miles - Untouched and loved its whole life - A true Show car Survivor in #1 condition.
https://www.ebay.com/itm/1982-Chevrolet-Camaro-Indy-500-Pace-Car-T-top/362261232285?
This car is part of my Personal Pace Car Collection - I only drove it 2 times in the 9 years I have owned it. It has been parked under a high-end cotton felt cover in my climate-controlled warehouse. From time to time I start and run it up to temperature.
I drove this 82 only twice: One time where it won Excellence in Class at the Boca Raton Concours d' Elegance. The other time I displayed it in response to a PERSONAL INVITATION at the Miami International Auto Show. This was for GM's unveiling of their Brand New 2010 Camaro.
This example is a 100% untouched and all-original 1982 Camaro. The ONLY changes are New Battery and Tires - (the original owner had added a trip computer at the dealership in 82. It is era correct and I left it in place, but very easy to remove.)
Prior to my ownership, the loving and caring previous owner had received two Chevy Vette Fest: GOLD SPINNER AWARDS - Two different years it won this award..
This car has only 8,809 Original Miles
After the sale, but before delivering to you - I will have my mechanic do a complete run through of functionality. When you receive this car it will be running and functioning just like the day it was new. (I am positive there are no issues, but I want to deliver a car that I am proud to sell, and you are delighted to receive) I AM DOING THIS EXTRA STEP TO INSURE THAT SINCE I AM EXPECTING A VERY GOOD PRICE - YOU WILL BE SURE OF GETTING A CAR THAT DEMANDS IT.
There will be no issues. I loved and pampered this car for 9 years, but I just never ever really got to enjoy it. Time for someone else to have the opportunity. And the Wife wants her garage space back. She is getting a Brand New Daily Driver - (she has 1 car, I have 9) - I must comply.
In 1982, the Chevrolet Camaro would return to pace the world's greatest motorsports event, the 66th Indianapolis 500. The 1982 Camaro Z28 was the first year of the newly-redesigned body style now known as the third-generation. At long last, the famous Z28 legend comes to Indy - an unbelievable first time in Z28's long race history. From Z/28's debut for the press at Riverside International Raceway on November 26, 1966, to the first generation Penske/Donahue Trans Am race cars; from race car to factory stock to the illustrious Pace Car, everyone talked about the Z28 Camaro. Excerpted from The Official Chevrolet Indy Pace Car Book by D.M. Crispino and John R. Hooper.
The Indy 500 Pace Car for 1982 was the Z28 sport coupe which included sport mirrors, rear spoiler, instrumentation, leather-wrapped steering wheel, and other specifications.
I will be listing the 5,208 mile 1993 Camaro IPC, and possibly the 12,011 mile 1998 Corvette IPC next.
Original Dealer Window Sticker, and Owners Glove Box Package will be included.
The RPO equipment list reads:
AU3 Power Door Lock System
A01 Tinted Glass
A31 Power Windows
A90 Power Hatch Release
B32 Color Keyed Floor Mats, Front
B33 Color Keyed Floor Mats, Rear
CC1 Removable Glass Roof Panels
CD4 Intermittent Windshield Wiper System
C49 Electric Rear Window Defogger
C60 Air Conditioning
K35 Auto Speed Control w/ Resume Speed
LU5 5.0 Liter Cross Fire Injection V8
MX1 Automatic Transmission
N33 Comfortilt Steering Wheel
QYH P215/65R-15 S/B Radials, White Lettering
TR9 Auxiliary Lighting
TT5 Halogen Hi-Beam Headlamps
U05 Dual Horns
U75 Power Antenna
YE4 AM/FM Stereo Radio w/ Cassette Tape Player & ERSS
Z50 Indy 500 Commemorative Edition
16L Silver Metallic Interior Accents
26G DD9 Blue Custom Contoured Bucket Seats
I reserve the right to end early as Car is for sale locally.
Would prefer a local buyer who could pick this car up at my location, but I will be glad to help arrange for delivery of your Auto to a local (Ft. Lauderdale/ Miami) shipper of your choice that you contract with.
After your car is paid for, please let me know how I can help out with the transportation. I require a $500 non refundable deposit within 4 days of auction close. I would like payment in full by 10 days.
After car is paid in full I will help however I can to get it delivered to you.
Asking Price:
$20,000.00
Condition:
Excellent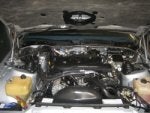 City:
Ft. Lauderdale
State:
Florida
Displayed Email:
[email protected]
Phone:
https://www.ebay.com/itm/1982-Chevrolet-Camaro-Indy-500-Pace-Car-T-top/362261232285