Discussion Starter
•
#1
•
Just got my vintage wheel works wheels finally, after ups lost the fronts for 3 weeks. I thought I had it all figured out but the 245/40/17's in the front look to small to me. The 275's in the back look a little short to me as well but I think they will look better when the car is lowered. I had 225/60/15 and 255/60/15's on it before and really liked the look but went to 17's so I can upgrade to bigger brakes.
Anyway the 245's in the front look tiny in the wheel well and I would like to do something a bit bigger. If the calculator I was using is right this is how they should break down
245/40/17 is 24.7" tall and 9.6 wide
245/45/17 is 25.7" tall and 9.6 wide (same diameter as rears)
255/40/17 is 25" tall and 10 wide
235/45/17 is 25.3" and 9.6 wide
The 255/40/17 is just a tad taller so I'm not sure if it would be enough, I work at a store that sells tires but the tires I am using have to be ordered in so I am trying to get this right for the second time. Anybody running a 255/40 on the front of a 67 or 68? Have any pics and do you have any rubbing issues. I plan to autocross this so I am trying to put as wide of tires on as possible, thats why I am leaning toward the 255, but like I said it isnt much taller than a 245/40. The 235/45 is probably the safest best as far as diameter goes though with a happy medium between the 245/40 and 245/45.
Here is a pic of the car, I had to lighten the pic a little so you can see the tires better. Right now it has 1" hotchkis springs in the front and an unknown multi leaf in the back that leans to the pass side.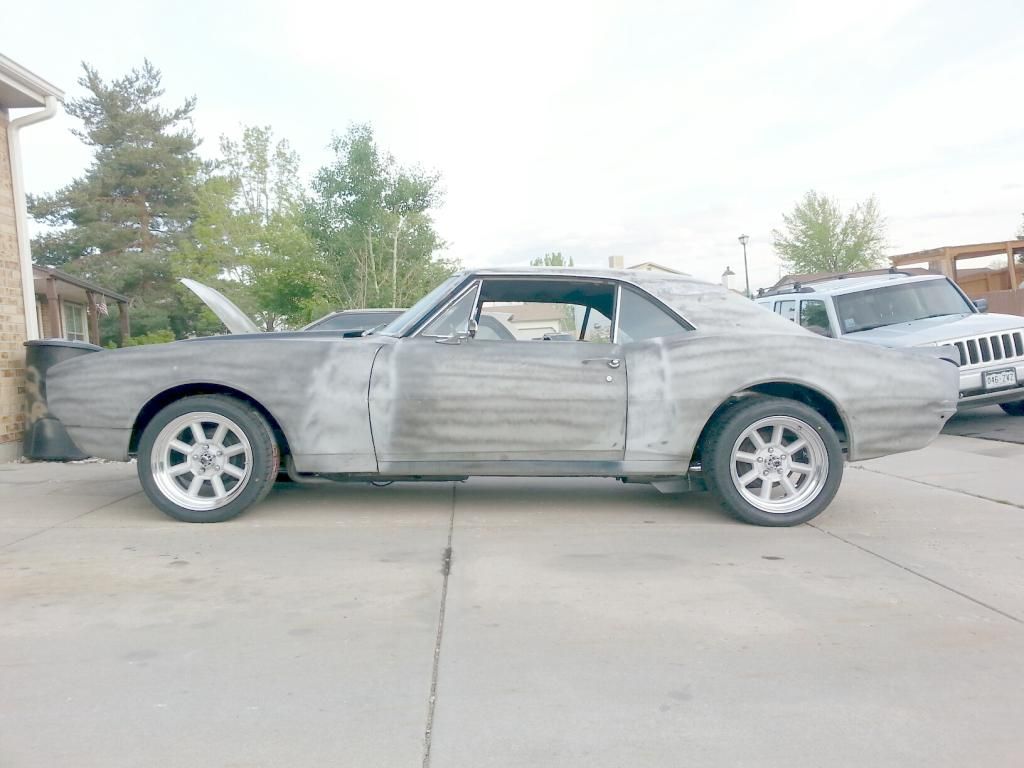 Edit* plan on a hotchkis 3" drop springs front and back in the future