Discussion Starter
•
#1
•
I am starting this a little late as I am almost finished my LS swap.
I have always wanted a 69 camaro since I was about 10 years old. One popped up on my facebook feed 2 years ago and it was a 69 Z28 clone in the color I always wanted. There were about 50 replies in 20 minutes on the posting. I took a big risk and transferred a deposit that night to the seller. I didn't actually get to see the car in person until 2 weeks later due to my work schedule.
As far as I have researched the car started out as a v8 automatic in glacier blue. It was imported to Alberta Canada from florida around 2002. As far as I know the restoration occurred in Florida prior to 2002. The car is in overall good condition but has a few flaws mainly a poor sunroof patch job. I bought the car with a 350 and T5.
Some pictures of the car after it was delivered to me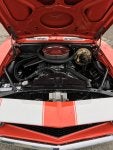 .