Discussion Starter
•
#1
•
Car came with stock (previously replaced) front springs and rear single leaf. I wanted to get rid of the 4x4 look and have the tires better fill the wheel wells without buying larger rims
I used RideTech # 11162350 lowering springs up front. These are a Progressive type spring with a advertised drop of 1 1/2"
For the back I used 2" lowering blocks (Speedway) and a 2 degree shim to bring Pinon angle into spec
My results were 1 5/8" drop in the front and 2 1/4" drop in the rear
Tire size before drop (blackwall tires). These tires came on the car and were 17 years old and not safe, IMHO, to keep on the car. They had plenty of tread left but were hard and brown
F=215/60 x 14 BFG radial TA
R=235/60 x 14 BFG radial TA
Tire size with drop (RWL)
F=225/60 x 14 BFG radial TA
R=245/60 x 14 BFG radial TA
Full lock to lock steering, no hitting of any suspension or fenders. Car ride is not harsh or stiff.
Car before drop (Blackwall tires)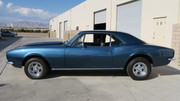 Car after drop (RWL tires)