Discussion Starter
•
#1
•
I have a 68 Camaro with the OEM non tilt steering column. I had the lower steering column bearing go out recently and I need to replace it. Looking around online I see that both Rick's Camaros and Heartbeatcity want to sell an "upgraded" version. The heartbeatcity upgrades the 68 to use a 69 bearing. I compared my 68 bearing to my friend's 69 bearing side by side and while the 69 does fit into the collar differently I don't see where the bearing itself is much of an upgrade. I tried to reach out to Rick's to ask about their bearing but the online chat was pretty terrible about it.
Heartbeatcity option is here:
Camaro Steering column bearing std 1967-1968 - 1967, 1968, 1969 Camaro Parts - NOS, Rare, Reproduction Camaro Parts for your Restoration
The ricks option is here:
Camaro Lower Column Bearing, For Cars With Non-tilt Steering Column & Floor Shift, 1967-1968
Wasn't really pleased with my attempts to find out more info from Rick's on this bearing setup but I'm willing to look past that if it's the best upgrade.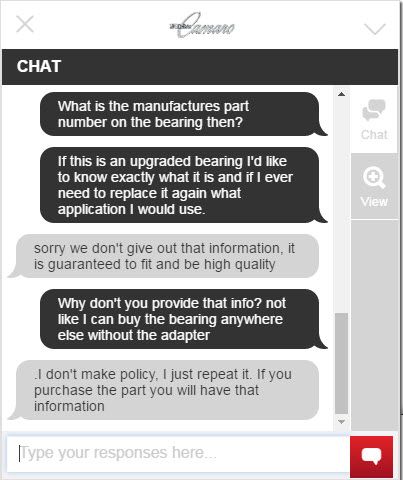 I've tried searching this site and online and find lots of hits on rebuilding the column and where to buy bearings but nothing on upgrading the design or not. The car is driver extremely hard on the road course and autocross. in 2016 it saw 5 Optima Ultimate Street Car events, two time trials road course events, other track days and over 30 autocross events. So if there is a better than oem design I'm interested but I'm interested in why something is better beyond a big supplier saying so. Otherwise, I'll just replace it with the same design that made it nearly 50 years.