Discussion Starter
•
#1
•
This is going to be quite the thread... I have 3 beautiful Chevy's that I would like to share with you. One of which (The 68), was just purchased.
My name is Mike, I'm a moderator over on the MonteCarloForum. Live out near Philly, PA. I'm a Graphic Designer and I work at a software company.
Right now I drive a 2000 Monte Carlo SS and a 1998 Camaro.
Let's get to my cars. First up, my baby, owned since mile 0, currently has 183,000 miles on it. It's a Black 2000 Monte Carlo SS. This was the first car I actually modified, all my previous cars were basically just kept routine maintenance on.
Engine/Drivetrain: CAI, ZZP Stage 1 HVTB, ZZP HV3 Insert, ZZP ER Rockers, 180° Thermo, ZZP 304 SS Powerlog, ZZP 2.5" 304 SS Downpipe, GMPP Full Cat-Back Exhaust, custom tuned.
Suspension: Not much here, just front and rear STBs. Need to fix up some rusting out frame rails and radiator core support before I get crazy.
Wheels: I have 2 sets of rims, the ugly stockers that came with the car for winter, and in the summer I have 18" Polished Aluminum Eagle 077s.
Exterior: Painted bottom trim (silver with red), 2006 Stand-up Spoiler, IPCW Black Bermuda LED Tails, Tinted reverse lights, 3rd brake light overlay, Roof rails, Weathertech In-Channel rain guards, SLP Grille, debadged Trunk Lid, Silver Monte Carlo scripts on quarter panels.
Interior: Black and Red wheelskin, LED light swaps, Red Bowtie Headrests, Super clean black leather interior.
Future Plans with this car are currently on hold. During my last inspection, I was informed of very bad rusting going on with the car. I need to do my restoration a little early. Need to start locating body shops and getting real estimates on what I need to repair. I was going to be putting a ZZP Z3 Turbo on this year, but that is currently on hold
Few Pics: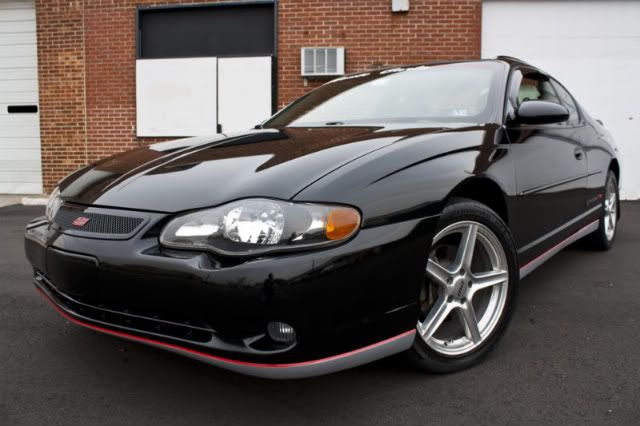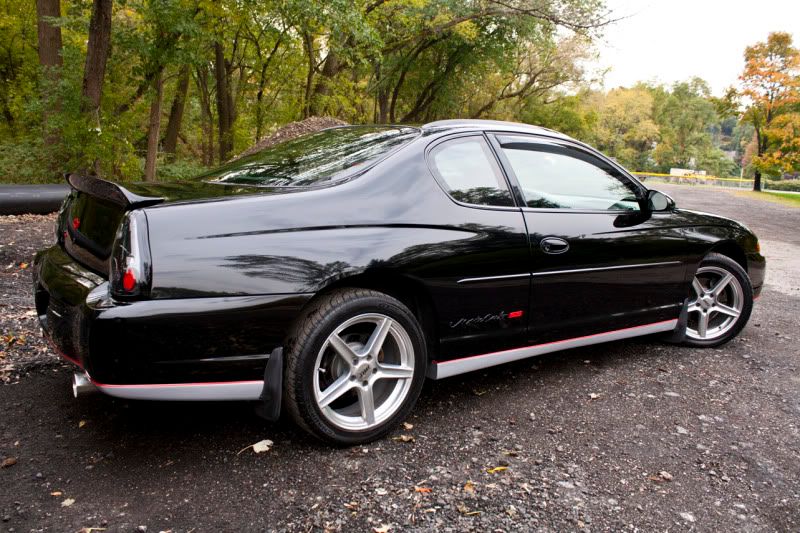 Now for the Camaro
I bought this car last year because I wanted to get proficient with a manual for daily driving. Also I was ready to start working on the Monte and needed a second car for when I took it off the road. I found this beauty on eBay, no reserve, and snatched it up for $3200 bucks. Rare color, 5 speed, manual windows/locks, T-Tops. It was honestly everything I wanted in an F-Body.
I figured I couldn't go wrong with another L36 powered car, since the Monte has been crazy reliable for me. I also found out that the Bright Purple Metallic color was only available in 97 and 98, and in 98 only 380 cars TOTAL got this color. So I am sure I won't run into many with a car that looks quite like mine.
Have not done much to this car, as my money goes to the Monte. I have just been fixing it up as I go along. My only real modifications are a CAI and a Hurst Short-Throw shifter. Already has an aftermarket exhaust but it is so loud and obnoxious. I kind of hate it, but it's not broken so it's not worth putting money at it.
Here's a couple shots of the 98 Camaro: