Discussion Starter
•
#1
•
Here are a couple of shots of my 69 that I've owned for 33 years (after selling a 67 r/s vert when younger). I was the oldest kid out of 3 and my Dads name was Marvin, I built this car in honor of him and all he has taught me (plus he left left some $ behind after he passed bless his soul, which is the only reason for this car ), plus I should of had this car in High School
hear it goes
496 forged solid roller needs a vac pump for the power brakes 650 hp on the crank 7000 rpm red line pro 1 heads and allegedly able to take 150 shot all day long(which I have for it, and it's plumbed).
TVS Hotchkis kit with a rear sway bar and 3" tail pipes ...(that's what f 'ed up my shoulder, I had em off 7 x)
flush glass
Dakota digital AFX dash (blue)
dse head lights with bulb up grade (blue)
de chrome
disc brakes all corners 4 piston front 12" all around
Jason Rushforth wheels (awesome person to deal with)
big thumping stereo
brake bias control thru the driver floor
built T-56 hybrid (I actually has a hate to say it ....mustang tail housing)
3:73 12 bolt
alum drive shaft
and it goes on and on, it literally cost 2 shoulders because I wrecked em putting this together in a claustrophobic garage, I'm 55 .
I don't think this is a pro tour car (no air) but there is no resto mod section here.
Still a werk in progress Headliner and some other minor crap.
I goes faster than anything I've been in(65 mph in 6th gear is 1100-1200 rpm, I feel it will do a duce but the quick steering box makes it a handful at speed). I've had a lot of bikes and v-8 vegas and G/N's in the past. Was filling it up to day and had 2 people take picts. ...made me feel good and also feel like sharing with all of you (this place is a vast wealth of info. which has helped my the past 2 years).
these picts. are from a phone , I have better ones coming when I say it's done (my wife is a photographer). This is not a show car it's a go car.
Cheers Bob :beers: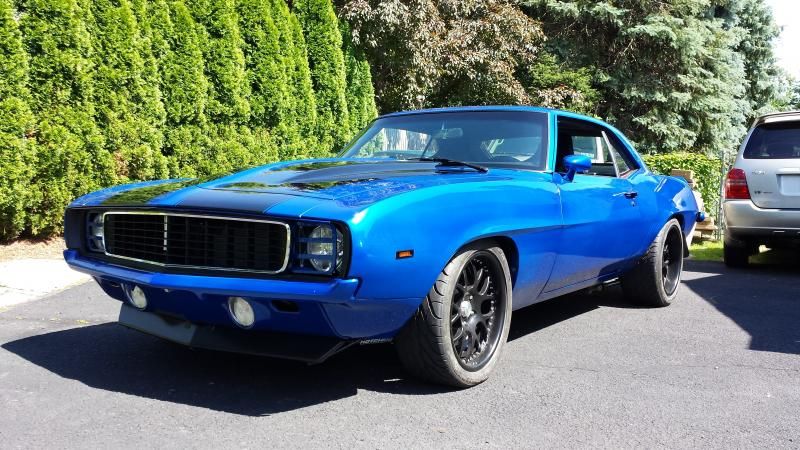 yes that is not the brake booster I used, it and a Hotchkis vert frame connect kit are soon to be posted for sale here (Pm me).
current work - cowl induction seal.