L99 Takeout Engine - Like New - Auto version of L3
I have decided to sell my like new L99 for sale. This was taken out of a new Camaro to install a LS7 by Redline Motorsports in New York (www.redline-motorsports.net). They had a deal with one of the local Chevrolet dealers (Denooyer Chevrolet) to build the Camaros with LS7s. I've only used it to mock up in my Chevelle so basically it is like new with less than 100 miles on it.
Originally I was going to install it with a Maggie in my Chevelle but I decided to go a different direction. It comes with the exhaust manifolds and I'll reinstall the Camaro oil pan once it's taken out of the Chevelle. I'll also provide the bill of sale I received from Denooyer Chevrolet and a bill of sale from me.
I'm located in Kansas City and would prefer a local pickup but can ship it. I'll crate it and you arrange/pay for the shipping. I've used Freight Quote in the past and have had pretty good luck getting reasonable rates vs going to the carriers. I can drop it off at any of the local carrier's terminal to save you some on shipping
$5695 OBO
Asking Price:
$5,695.00
Condition:
Excellent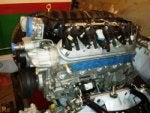 City:
Kansas City
State:
MO