Discussion Starter
•
#1
•
Hey Everyone, I just thought I would post a reference for others having questions about lowering their cars with stock suspension. I did a ton of research on this first.
For reference, my car is a '68 RS Vert with a 12 bolt mulit-leaf (5 leaf) in the rear and stock coils in front. I bolted on all the body panels, top frame, seats, and threw in 4 concrete blocks to simulate interior, glass, and fuel. I figured that should be at least close to the final weight of the car.
It sat up way too high for my taste. Here is the before picture:
I know you guys like the measurements from the center of the axle to the wheel lip for obvious reasons, but I didn't get them, sorry. The measurement from the floor to the wheel lip was 28" bofore I started.
I removed the 3rd leaf spring from the top in the stack and reassembled. Here's the pic: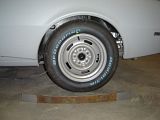 Then, I removed the front coils and cut exactly one coil off the bottom of the spring. I don't have the fenders on anymore (they are back at the shop getting body work done), so I don't have a reference measurement up there. I can already tell it's going to be much better for my taste.
The measurement in the rear is now 26 1/2". So, it lowered the car 1 1/2" by doing this. The front sits slightly higher at the moment, but once I get the sheet metal bolted back on the front, it will either be level, or have a slight nose down rake. The wheels/tires are 15 X 7 with 215/65/15s. The front and rear springs had been replaced by a previous owner at some point. I found a sticker from the manufacturer in between the rear leafs.
So, I hope someone can use this for reference in the future. Brian