Discussion Starter
•
#1
•
Howdy yall,
Ive been a Camaro fan since 1995 when I turned 16. My first car was an 86 Berlinetta. I sold it soon after and regretted it ever since.
My lifes goal has been to get a first gen and finally Ive found one, however, I am very stupid when it comes to cars. I have alot of plans for my new vehicle but really have no idea where to start.
I am starting here.
I am listing a slideshow of it.
The seller gave me a list of modifications and aftermarket parts and such, its the last slide on the slideshow but in case the slideshow doesnt show it accuratly, I will post it here also...
Any imput on what I should do first, what I should do last, average prices on what Im looking at, etc would be tremendously helpfull. I would like to thank you all in advance for your help and imput.
CLICK ON THE PICTURE FOR A SLIDESHOW!!!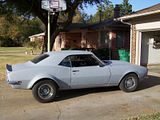 (the last slide in the slideshow reads as follows)
1968
Camaro
Coupe. The car is primer gray and has a beefy 327 with lots of after market parts.
​
ENGINE- -327 (unknown of if this engine is the original engine. Previous owner wasn't sure which leads me to believe it probably isn't.) -Chrome
Molley
Push Rods -1.5 Roller Rockers -Competition Cam (5.92 Lift) -
Edelbrock
750
carb
-
Edelbrock
Performance Aluminum Intake -Mallory Performance
Ingnition
System -80mm Plug Wires (yellow) -Headers -Long high flow water pump -4 row radiator (huge) -Aluminum Flex Fan -Electric Fan on Toggle Switch -Bored 60 over -Has 10 bolt rear end.
​
All is solid with the frame and anything else underneath. Has complete dual exhaust system with aftermarket mufflers. Sounds excellent. All the work on the engine was done by the previous owner. He knows what he was doing and it seemed did an excellent job on everything.
​
He told me the vehicle was estimated to have 425 HP, but I do not know how accurate this is and never had it tested or anything. He also stated he did take it to the track once and ran a 8.16 in the 1/8 mile. BODY- -Primer gray all over and it was blue before. The factory color was a shade of blue, cant remember specifically which one.
​
Has California style fiberglass fender flares on the rear fender wells. This really makes this vehicle stand out. These were done prior to the previous owner and also appear to have been done a good job with. -Needs floor pans (I was told, never leaked or anything.) Which I have and will include with the auction, brand new. -Could also use a trunk pan. I do not have but I will show a picture of the trunk and u can be the judge. -Fenders and quarters and all appear to be in good shape. -Chrome front and rear bumper in good shape. -Previous owner put in new leaf springs couple of years back. -Has gray rally wheels with caps and beauty rings. Back wheels and tires and much larger than front. -Driver side door jam has some rust in the bottom corner. I tried to get a decent up close picture to show this as best I can. This
Camaro
has drum brakes all the way around. Originally was a manual transmission car but has a turbo 350 auto trans in it now.
​
*edit* Also, if anyone has any information or ideas for me, I can usually be reached at (727) 249-3386. If I am at work, I may be unreachable, however, please leave a message and I will get back to you as soon as I am able. Thanks again.
-Ben