Hello all! Fairly new to the forum. Just wanted to post our build here.
The Beginning:
My dad purchased this car when I was around 4 years old(I am 33 now) from our neighbor who had it sitting in their barn. The car had some funky fender flairs on it and was painted blue at the time with the original vinyl top. Shortly after purchasing he took it to a guy to have new rear quarters hung and be painted. I will just say that the guy did not do a good job, and moved to Florida prior to completion of the project. Once I was old enough to drive we started bracket racing the car with a 327 in it. Ran 14's and eventually stepped up the little 327 to a 331 to run mid to low 12's. As with anything our need for more speed found us putting a 383 in the car and ran low 10's for a number of years. Eventually we lost interest in Bracket Racing and concentrated more on the Heads Up type racing. With plans to build an X275 car out of it we quickly realized that the cost to do so would be way more than we were willing to pay so with a mini tub and an 8.50 cert cage we decided to put the old girl back on the street our hands at a street/strip type combination so that dad can still have fun with it taking to car shows, and I can still get my fix at the drag strip....
Here is a pic from when I was 17 beside the car Running 12's: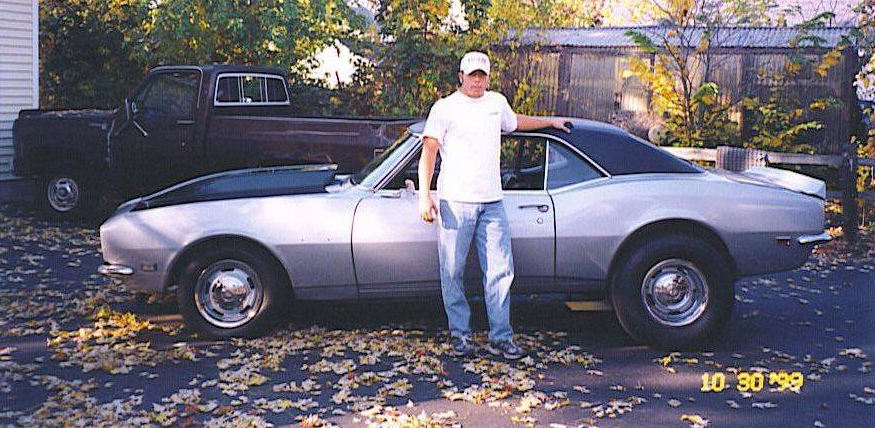 Another Pic of us at the strip with the Low 10 second bracket Set up: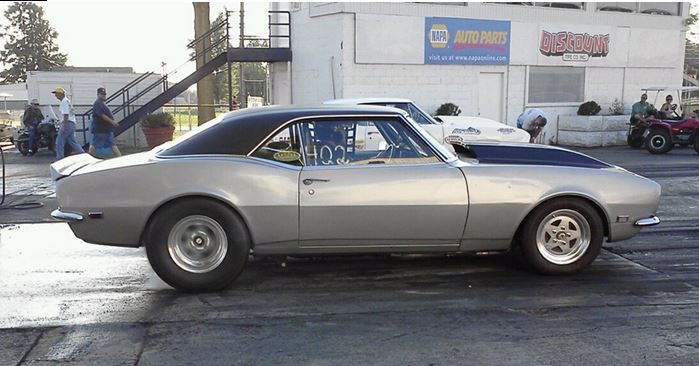 The Plan:
We had Steve Morris Racing Engines build us a 409(vid says 408, but incorrect) cubic inch monster with a F2 Pro Charger that will run off pump gas and C16 with a quick jet/pulley change and timing retard. Here is a quick video of the engine on the dyno:
The car is currently at the body shop, and our body man documents the entire process through youtube. I will post the 2 episodes that he has out thus far. The videos run a month or two behind, but it makes it very interesting to follow along. Car will be returned back to its original Sequoia Green paint job with all emblems to match a standard 68 camaro.(With the exception of the 409 in lieu of the 327 on the front fender)
Body Shop Videos Thus Far: (I will post more as they are available)
After the Body Shop gets the car into Primer we will be installing the Second Skin Damplifier on the floor and our new gauges. At this point it will be off to Jim-Powski Racecraft for the following:
Weld Front spoiler support(Middle Bracket)
Mount Intercooler / Radiator / Trans-cooler
Route Intercooler Tubing
Measure/Install DA-CO Front Shocks & Smith A Arms
Fabricate & Install Headers / Full Exhaust
Wire Car
Install Pro Street 3.42:1 Gears
Mount Parachute Release Handle & Bracket
Fabricate/Install Driveshaft Loop
Mount Fuel Pump
Install Quick Release Steering Wheel Hub
Measure for New Wheel/Tire Combination(295 on 12" Wheel?)
Install Rear Disc Brakes
Before it leaves Powski's shop we want to get the car running, and take it back to our body shop for new door glass and final paint/assembly. We will need to fit in a trip to the Interior shop for ozite carpet, a new vinyl top and to modify our bench seat for the floor shifter.... More to come!