Discussion Starter
•
#1
•
Ok guys! This body story is worth sharing.
So I decided to buy a welder and start on my 69 Camaro Coupe restoration. Great! I started by removing the rear quarter on the pass side. Lo and behold-- there was the full original rear quarter underneath it!
The previous owner (I need to make that clear) decided that instead of fixing the outer wheel wells and louvered areas for rust, he should just weld the new 80% skins RIGHT OVER ORIGINAL QUARTERS! Unbelievable! Some people just don't deserve to own these cars--right?
Anyway, I was clever enough to cut out the rear quarter 80% skin and have it as an extra. It is in excellent condition and must have been installed right before I bought the car. *If anyone would like to buy the rear skins from me, I am selling them.
I thought you all would enjoy the photos of the entire process. I tackled the pass rear quarter yesterday and will remove the driver rear (outer) quarter tomorrow. I plan to document the entire resto on photobucket in a slide show. That way I can share it with Camaros.net and its members. Hope this helps others, as much as you guys have helped me.
Wish me luck! Maybe I will find an Double set of gauges, fiber optics, and Rosewood on the car!
HERE'S THE LINK TO THE SLIDESHOW: *(passenger rear quarter skin removal)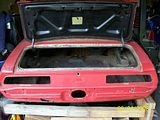 Enjoy!:thumbsup:
Todd