Discussion Starter
•
#1
•
'Bout time I start a thread here I suppose seeing as how
I joined Team Camaro almost 5 years ago.
Time flies, waits for no one. I know there are a few over here that scoff at cars with project names. I am not trying to get all high and mighty by calling my car by something other than a girls name, although when "Ashley" was suggested in my welcome thread linked above that would have been somewhat appropriate for a flamed Camaro surviving 2 fires.
Rather, it is a name more for the thread to set one apart from another.
Some of you may have seen my
meager thread on Lateral-G
which is a great resource I also frequent. I toggle back/forth between these forums regularly as do several like minded Team Members.
I decided to share my passion over here too so that I can get to know and gain inspiration from a few more Camaro lovers, and maybe with any luck give someone else a little useful information among my babble. Besides that, 9/10's of the time when I have a Camaro question I seek the answer here!
I have taken to calling my Camaro's thread "Someday" for all the times I have said to myself or those close to me, "Someday, my '68 Camaro..."
As for the "Pro-Touring" part, no offense but to date there is nothing
Pro
-fessional going on here. I would have been fired for lack of productivity long ago and I have not had a whole lot of help besides Jodi on occasion. Her help is what has kept me on task at times and enabled me to keep moving forward, even when it is hard to chart my progress. Another reason I decided to post over here is that there is a lot of Pro-builds over there and some mad fab skills. I am not on the cutting edge or reinventing a thing. Just a guy trying to make an old car I love drive like I have always dreamed, looking good doing it would be a huge plus.
Here's a few pictures:
Morning after the '07 garage fire, 2nd one this paint has seen fortunately with not much more than smoke damage each time. Painted in '96 it shows it's age and the theme would not be repeated by me now
... but, we live with our choices.
Winter '09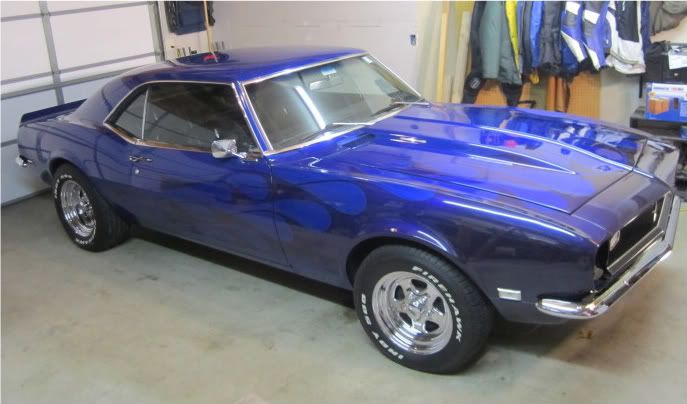 Summer '12
Basic specs=
Engine:
Original numbers matching 327 block, rebuilt in the early 1990's...030" over, Crane Fireball II 302h cam, 241 Camelbacks with 2.02 SS valves, hardened seats and stamped roller rockers. 10:1 pistons, I'm not sure where that compression ratio may have gone with these heads' chambers. Currently topped with an early non-airgap Edelbrock Performer RPM intake and 600cfm Performer carb.
Also have a Barry Grant Speed Demon 650 Vacuum Secondary I picked up.
Fuel:
Ricks tank, narrowed and clipped corners, equipped with a low pressure AC Delco pump
Exhaust:
currently Hooker Competition Headers, 3-2" collectors, turbo mufflers in front of the axle and turndowns between fender and leaf spring installed in 1993
Thinking maybe Dynatech's and 2.5" Magnaflow system...Someday.
Cooling:
Dual fan, dual pass LS radiator by PRC.
B&M polished Aluminum water pump
Milodon high flow thermostat drilled for bypass.
Transmission:
I'll be removing the third th350 that I have had built in this car since I've owned it in favor of a T56 Magnum close ratio conversion with American Powertrain.
Rear Differential:
Swapping my original 8.2"10 bolt 3.08 one wheel wonder for another with Richmond 3.73, Eaton Posi, and disc brakes. Maybe "Someday" I can get a 12 bolt or a 9" if I up the torque.
Front Suspension and Steering:
AGR 12:1 steering gear with firm valving
AGR OE style pump in OE reservoir.
All new steering linkage, I/O tie rods, idler and pitman arm. Ridetech tie rod adjusters.
Hellwig 1 1/8" Tubular front swaybar
currently SSBC disc spindles. ATS tall spindles (will go on with Wilwood 13's)
Hotchkis 2" drop front coils for SBC
Hotchkis/Bilstein HKS 2000 shock absorbers
SPC tubular lower control arms, with ride height tuning kit.
Speedtech High Clearance upper arm.
Chassis:
swapping to another arrow straight stock subframe... I will weld the seams and make a couple reinforcements to it.
Speedtech body mounts.
Competition Engineering bolt-in subframe connectors., likely going to DSE weld-ins instead for clearance.
Rear suspension:
currently OEM monoleaf
soon, Global West L2-R2 2" drop reverse eye leaf springs, 103sh delrin shackles, mono-multi conversion cnc'd spacer blocks by Jodi's brother, DSE u-bolts and shock plates
Hotchkis/Bilstein HKS 2000 rear shock absorbers
Brakes:
Depending on the length of time I am running the SSBC kit complete clamping the binders will either be:
1. SSBC A123 kit with 1 ⅛" master cylinder/booster and inline proportioning valve
or
2. Wilwood ⅞"(manual) bore master cylinder and combination proportioning valve/distribution block
Front =
currently, SSBC A123 11" rotors and single piston calipers
with the ATS spindles, 13" Wilwood radial mount, 6 piston 140-8921 d/s
http://www.wilwood.com/BrakeKits/BrakeKitsProdFront.aspx?itemno=140-8921-D
Rear = currently OEM manual drum
Wheels and Tires:
Front =American Racing Torque Thrust II's 17x8, 4.5" Backspace with Fuzion 235/40r17's
Rear = American Racing Torque Thrust II's 17x9.5, 5.5" Backspace with Fuzion 275/40/r17's
Interior:
Gauges-currently stock speedo and fuel, vdo tach on column, with a 4 pod forward console.-->Looking at NewVintageUSA, Speedhut and Dakota Digital and similar versions that would combine 6 guages into the factory speedo/fuel two place pod. Other suggestions welcome.
American Powertrain White Lightning shifter
OEM Black Deluxe interior with console.
Originally gold, front seat covers and dash pad replaced in '89 with black. Rear seat dyed. kick panels etc... painted or dyed.
Eastwood Thermocoustic Barrier floor and firewall.
Steering wheel = Grant 13" 3 spoke "GT" wheel for now.
also still have sewn black leather wrapped OE n90 Deluxe wheel
Want: Morris Classic Concepts 3 point belts which I'd like to do for user friendly safety enhancement.
Electrical:
Mad Electrical "New System" with trunk mounted battery relocation kit and a few relay kits.
Digitails, tail/brake and front marker/TS