Discussion Starter
•
#1
•
Okay guys, I am not sure if anyone has posted about this before but I want to contribute in my wn little way here at Team Camaro so I thought that I would start a spot weld comparo thread... Please chime in with your likes and dislikes!
So, as far as I know, there are only two types of spot weld removers (other than an air chisel) that are available.
A cutter style on the top and a drill bit style on the bottom :
In my experience both of them get the job done, however,if the metal that you are trying to separate doesn't pop apart, you will inevitably cut into the metal that you want to remain on the vehicle..
Here is a pic of what they both look like if you run it into the base metal (the drill bit is on the left, the cutter style is on the right):
Here are the pros to each of them in my opinion:
Cutters leave more metal behind so there is less to repair.
Drill bit style last a lot longer
Here are the cons:
Cutters tend to walk more (even with a pilot punch mark or small drilled pilot hole)
Cutters do not last as long and break easily as it seems the guide point dulls.
One the "reversible" cutting head seizes on the arbor, you are never gonna get it off...talk about frustrating..
Spot well drill bits have a small guide point on them that can quickly wear away causinig the bit to become useless, unless you start drilling with a good bit, then switch to a bit with a worn guide point.
These also seem to be more labor intensive: punch a start mark, drill a pilot hole so you don't wear the guide point down, then start with a good bit, then once the hole is started switch to a worn bit so you can preserve the good bit, then repeat.
So here are some side by side picks of good bits/cutters and bad bits/cutters:
Cutters: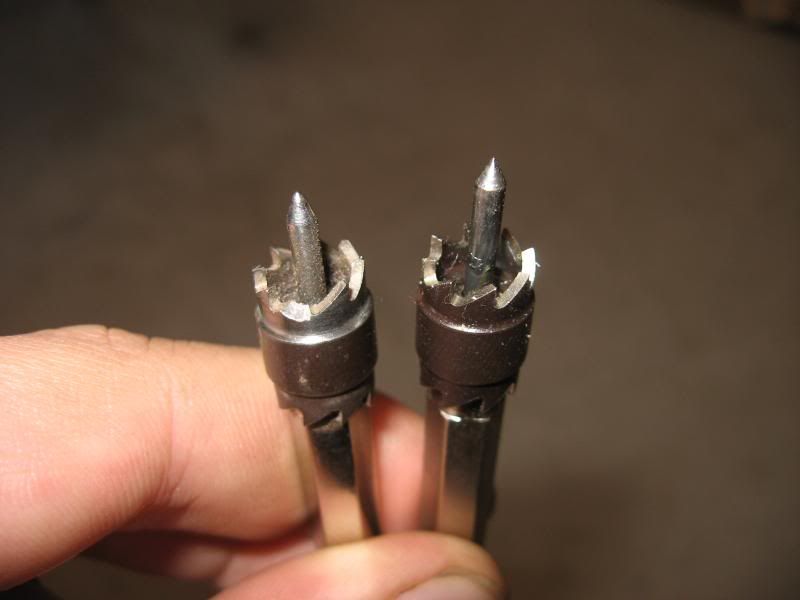 Bits:
So take it for what it's worth, but which ever you decide that you like better, but they both work for me and they both have there quirks...
I hope this helps people that ask which is better to use!