Discussion Starter
·
#1
·
I started my build this past spring and will post a few times to get caught up where I am now so if this a bit long winded my apologies as I should of started this earlier.
My small block served me well for numerous years of spirited driving but it was time for a change.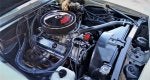 The Purists might want to move to the next thread or stick around and quite possibly learn a few things as I have from talking to a few members here on TC. Also PT.com has been helpful as well as LS1tech for engine info.
The engine started to leak and needed some attention so rather than remove and refurbish I decided a few years ago that a LS conversion plan was put in place. LT-1 style engine and M20 was sold this past year to help finance the build.
After educating myself on the various LS engine platforms I decided on a Gen III LQ4 as a base. They're plentiful from various GM pickups, vans, Escalades LQ9's. I didn't want to worry about sleeving an aluminum block and another reason was that they can only be bored over I believe to .005 safely.
A deal was struck with a yard for the complete 2003 6.0L engine, wiring harness, ECU and even exhaust manifolds for 700.00 delivered to their closer yard. I sold off everything that I wasn't going to use which netted me 400.00 off my original purchase price. Iron short block, front and rear covers for 300.00. Someone bought the exhaust manifolds for $60.00!
Some might say I would've been better off buying a complete LS3.......maybe but this way I get to choose the quality internal parts I'll use plus here in the Toronto area there are numerous engine builders that have good reputations.
Block dropped off at the machine shop for the build.
That's it for tonight more to come.